The Jon Jones-Rashad Evans situation is heating up as we get closer to Jones' fight with Mauricio "Shogun" Rua at UFC 128 Saturday night in New Jersey.
If you haven't been following along at home, here's the score:
• Jones hungrily accepted the UFC's offer to fill in for Evans against Rua when his Team Jackson teammate injured his knee and had to postpone fighting for the title.
• Evans took umbrage with Jones hopping the line since he waited on the sidelines for over a year to get a crack at Rua while the UFC light heavyweight champ recovered from knee surgery, but he took the high road and decided to bite his tongue on the matter.
• Jones reneged on an earlier pact to never fight Evans and goes on record saying during an interview with Versus that he would have no problem facing "Suga."
• When put on the spot about Jones quote about fighting him during MMA Live, Evans basically said "he ain't no bitch" and that if that's what "Bones" said, he would have to fight him.
• Jones tells reporters during a media conference call for UFC 128, "I absolutely hate when people mention Rashad Evans, especially throughout this training camp….for people to even be mentioning Rashad Evans right now…I think it's ludicrous. Rashad is not in my mind, he's not in my being, he has absolutely zero to do with my heart and who I am right now. This guy has nothing to do with Shogun and from here on out, I don't think I'll answer a question about Rashad. I have a lot of people outside of Rashad who I can draw energy and power from and they'll all be with me."
Which brings us to this week.
In an effort to inject himself into the drama to keep his name on the lips of MMA fans while he waits for the UFC to put him back in the rotation, Chael Sonnen tweeted the following today: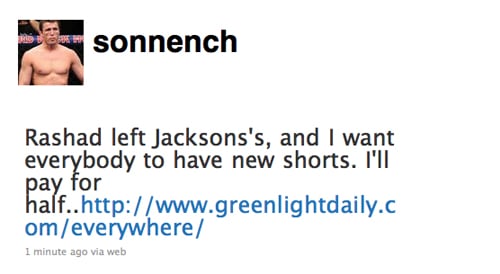 MMA's King of All Media was referring to an interview Evans did with ProMMARadio's Larry Pepe last night in which the former UFC light heavyweight champ addressed  the escalating Jones situation and hinted that if Jones wins Saturday night he may do what Diego Sanchez did when Jackson brought on GSP and leave the gym to train elsewhere, at least for their probable clash and perhaps even permanently.
Here's what Evans told Pepe:
About the guise that Jones joined the team under:
"When he joined the team, he joined the team on the premise that he wouldn't fight none of us because that's…with Greg Jackson, that's one of his policies. Greg brought him on the team and he said he was like, you know what? Jon's on this team, he'll be a good addition to the team. He's got a good style and he's an up and coming kid and he'll never fight you or never challenge you or nothing like that. There's nothing you need to worry about. He brought him onto the team with that intro."
About whether or not he will continue to train at Jackson's MMA if Jones wins the belt and if he has decided whether or not he will fight his flip-flopping teammate:
"It's something I gotta talk to Greg [Jackson] about it and I gotta talk to Jon [Jones] about. That's how I believe things should be done. We entered into an agreement together and if things are gonna go another way, I don't think he should have to find out from TV. He should find out from my mouth before I tell anybody. That's just how I do it as a man.I just have to sit down and decide on whats its going to be, because whatever it is going to be, there is no going back. There is no making it better. There is no going back to the team after it is done. If we agree to fight, if we say we are going to fight, it's over. If theres a chance I am going to fight someone, then I want to be able to keep an advantage somehow. If we are both drinking from the same well — learning the same knowledge with the same camp, with the same partners — then how am I going to surprise them? He knows what I know. I would need to divorce myself from the situation and just start over, and come with something new. I would divorce myself from the crew from Jackson's. Trevor [Whittman] would be separate because he is at Grudge. Jon trains in Albuquerque, so I just would divorce myself from Albuquerque and from training with Greg."
About Jones' comments during the conference call:
"That does sound a little bit cold-blooded. Jon's a young guy and when you're a young guy sometimes you talk a little too fast for your brain to keep up. I don't think it's acceptable at all. I don't think it's something I'd say. It sounds like he wants to fight, huh? Those sound like fighting words. Ya know, I don't know how to judge the kid. It's kinda messed up, to be honest. Ya know, I can't control what anyone else says and it sounds to me like he's a little bit insecure about the whole thing. Sometimes when you open your mouth you show what you're afraid of more than anything. I don't know why he has such an adverse response like that to me. I've never challenged him or made him feel like he should do that sort of thing. It sounds to me — if I was out of the situation — that he was feeling insecure about me. You can't just expect to not talk about a situation where you stepped in for a friend and training partner in a title fight who was injured. You can't take it personal… That sounds like a baby."
Fuelling speculation that Evans has already left Jackson is the fact that he has spent increasingly more time training in Colorado at Grudge Training Center with Trevor Whittman. Rashad, however says that he isn't even sure if he will move his camps to Denver if he leaves Team Jackson.
"Trevor's my guy. I did my last two camps with Trevor and I spent a lot of time with Trevor lately. He comes from the school of boxing where they don't have no problems with training partners because in boxing they bring sparring partners in, they pay 'em and they don't have a relationship as intimate as you see with MMA fighters. We pretty much trust each other to show up as a favor because we ain't got no big purses to pay nobody to come and put 'em up in hotels and stuff," Evans told Pepe. "It's two schools of thought they're coming from. Greg's the guy with the MMA gym in Albuquerque and everybody goes to his school. Before you know it you have two, three guys in the same weight class. The problem comes and eventually something's gonna happen. The reality that has maybe become more of a reality is that I won't use Greg at all. I've been playin' around with the idea of where I'm gonna go and what I'm gonna do if the situation comes to a head, but the situation is bigger than just me and Jon; it's the team. What's gonna happen now is that the 155′ers are like, you know what? Now we have to separate. Now we gotta go, because you have Melvin Guillard, you have Clay Guida and you have Joe Stevenson all in the same weight class. If we all have to fight, then we all gotta get away from each other."
Evans recently spent some time in Florida training with displaced ATT fighters Gesias "JZ" Cavalcante and the Villefort brothers at Imperial Athletics — an option for the future if he, Jones and Jackson can't work out their differences.
Evans' manager, Glenn Robinson of Authentic Sports Management tried to diffuse the volatile situation today by explaining to MMAFighting's Ariel Helwani that Rashad's comments were simply in regards to where his client will train if he has to fight "his friend,"Jones.
"[Evans] hasn't decided what he is going to do with training," Robinson said."If they decided to fight, obviously they both can't train at the same place.
UFC president Dana White told Helwani over the weekend that Rashad would be a fool to let the opportunity to fight for the title slip away considering he hasn't been friends with Jones very long. White blames the bros before foes" rule on Jackson.
"It makes sense [that they fight each other if Jones wins the title]. There's been a lot of stuff [said by] Rashad. Rashad thinks that I'm hatin' him or whatever the deal is. I don't. The reality is — I said it on your show the last time I talked to you — he hasn't known Jon Jones that long. To call him a brother and this and that…I really believe that…and Rashad didn't tell me this. Jon Jones didn't tell me this. This is just something that I came up with in my head. This has to be coming from the camp. Which, if you look at it from, whether it's um….uh….uh…whether it's Greg Jackson's idea or the other guys that are up in Colorado, whoever the coaches are up there," White explained. "Whatever is goin' on, why would they want these guys to fight each other? Because if they do, one guy is going to leave the camp and they make less money on that deal. If a Jon Jones and a Rashad Evans and this guy and that guy leaves, that's not good for business. That's bad for business. The reality is, this isn't a team sport, man. You look throughout the history of boxing, guys used to have to spar with each other all the time and the guys who came in as sparring partners eventually became world champions some day. You have to train with other people. You have to train with the best. It's a fact. You just don't become such "close friends" that you don't want to fight each other. It's bullshit."
Another thing White says Rashad should be mindful of is the fact that the window for the 31-year-old to be champion is narrowing.
"If I was Rashad, I would say whoever wins this fight I wanna fight. The guy got injured; he was next in line for the fight. I'd wanna fight him too. But now he's gotta sit around, he's gotta wait and see what happens with these two, he's gotta wait to see who wins — do they come out 100 percent or are they injured and have to wait a little while or do they want to fight again? He's put himself into a bad position and that's what I was saying about him: He's boxed himself into this corner," the UFC president told Helwani. "There's a very small window of opportunity when you're a fighter, okay? You have a small window of opportunity to get out there, fight as much as you can and accomplish as many great things as you can and sittin' around waitin' for other people who are your friends, you know? Really, what matters at the end of the day is, Rashad Evans, Jon Jones, Shogun Rua — no matter who it is, they're out there fighting for their families. It's no different than any other job. You show up here and chase me all around the world [to interview me] so you can make money and so you and your wife can have kids and buy a home and that's really what it's all about. Even in the fight business, it's a job just like any other job and you have a small window of opportunity. You can be chasin' me around the world for the next 30 years, okay? Rashad Evans can't fight Jones and Shogun and all of these guys for the next 30 years. You got a few years to get this done, and accomplish great things, and make a bunch of money."