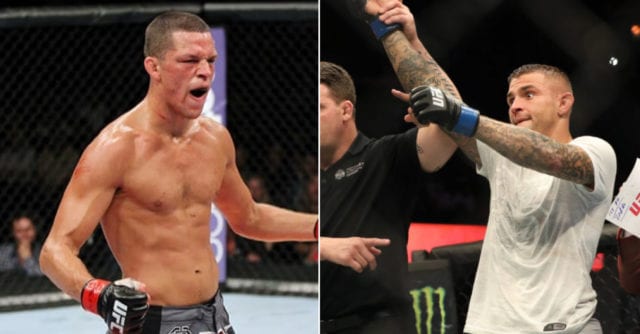 Dustin Poirier says his Nate Diaz fight is still on.
The returning Diaz has been making headlines since the UFC officially announced his comeback at the 25th Anniversary Press conference last week.
But the 33-year-old Stockton fighter felt upstaged by UFC President Dana White. As the promotional video for Conor McGregor vs. Khabib Nurmagomedov started to play, Diaz snuck out a side door.
He wasn't done talking just yet, however. Diaz walked outside and had a makeshift press conference of his own. There, he expressed his many frustrations with the UFC and White, even going so far as to say he wouldn't fight on that show.
Making an appearance on this week's episode of "The MMA Hour," Poirier would explain how he isn't concerned in the least bit as it comes to the Diaz fight.
"I mean, as far as I know. I think I'm the one fighting the guy. If something changed, I think they would have let me know. I haven't heard anything. Nate says a lot of stuff, but when he signs a fight contract, I don't really know of any times that he's not shown up to fight or pulled out of a fight. He says a lot of stuff and does a lot of stuff in the media between fights, but when he signs a contract, the guy shows up and puts it all on the line every time."
Only Diaz knows exactly why he fled the presser in the manner he did, but Poirier believes it was a case of poor timing.
"I think what it was is, he was upset that he came down to do the press conference and then they promoted Conor and Khabib, and those guys weren't even there and he was there," Poirier said. "I don't know, I think that's maybe more of what it was, like he wasted his time promoting these other guys while he's there on stage and they didn't talk about his fight, type of thing. But I'm not 100 percent [sure]. That's just hearsay."
After Poirier knocked out Eddie Alvarez at UFC on FOX 30, he said he would wait as long as he needed to for a title shot. Not even two weeks later the Lafayette, Louisiana, native had agreed to fight Diaz at UFC 230.
"Putting the title aside, Nate's probably the second-biggest fight that I can get. It would be Conor, that would be the biggest fight obviously, and then it's Nate Diaz. In the lightweight division, that's the biggest fight I can get right now. And Nate's a guy I've always watched fight. I've been a fan of his for a long time, I've always wanted to fight him. And Madison Square Garden is another part of it, I've always wanted to fight at Madison Square Garden. There's so much history there. I've fought a lot of places, that's one place I want to scratch off the list. So this fight just made sense."

"If the UFC told me that, 'Yeah, you're going to fight for the belt in four months,' I could've waited four or five months. But the way it looks, Conor and Khabib are going to fight towards the end of the year, then I don't know what's going to happen, when the belt's going to be defended again, and you never know what's going to happen, man, so I don't want to wait 10 months. I want to stay busy and this fight made a lot of sense to me."
Poirier will be looking to make it five straight against Diaz come UFC 230, a feat rarely achieved in the lightweight division. Moreover, a win over Diaz would, in theory, make Poirier the clear cut #1 contender to the winner of the Conor vs. Khabib title fight. A fact "The Diamond" is readily aware of, and one he believes is necessary for his own legacy.
"He's just another guy who's been around a long time, a legend of the sport," Poirier said. "Beating him after I beat Eddie Alvarez, I'm going back-to-back on the guys who I think are some of the biggest names in lightweight history, so that's just solidifying me as being amongst those guys. When it's all said and done, when I get my title shot, when I get the belt, like I said before, this is just all part of the legacy. This is part of the reason why I fight."