UFC 205 goes down on November 12, and will arguably be one of the biggest events of all-time for a number of reasons. First and foremost, the pay-per-view extravaganza will mark the first UFC event in New York. After learning of the incredible star-studded line up in recent weeks, it's the clear the promotion is pulling out all the stops for the Big Apple debut. Who sits at the top of the UFC 205 pile? None other than lightweight champion Eddie Alvarez and featherweight boss Conor McGregor, and they're fighting each other.
Causing a huge division in opinion, Alvarez's first lightweight title defense against McGregor has also brought out the best and worst in fellow fighters. One very common opinion was that MMA was heading down the direction of boxing. Money rules the game, and certain sects of both fans and fighters find this very negative. Following the initial wave of reactions, UFC welterweight and lightweight Donald Cerrone has some interesting opinions.
Cowboy
Also fighting at UFC 205, Donald Cerrone was on stage at the infamous UFC 205 press conference last week. After sitting through another episode of the Conor McGregor show, 'Cowboy' revealed the Irish star had turned down two fights against him. Furthering these comments in a recent interview with Sports Illustrated, Cerrone says the rest of the fighters have a dislike for McGregor. So much is the tension that, according to Cerrone, McGregor has to be kept separate from everyone else backstage:
"They line us all up in a line, but they take Conor and they put him off in another room because he can't be around the other fighters because we don't play that (expletive). behind the scenes he's like a scared little kid."
"He's not one of the fellas, he's not a good dude. It is what it is. He does a good job promoting the sport, he does a good job of making money. So I can't hate the guy for that, but just as a person I ain't a fan."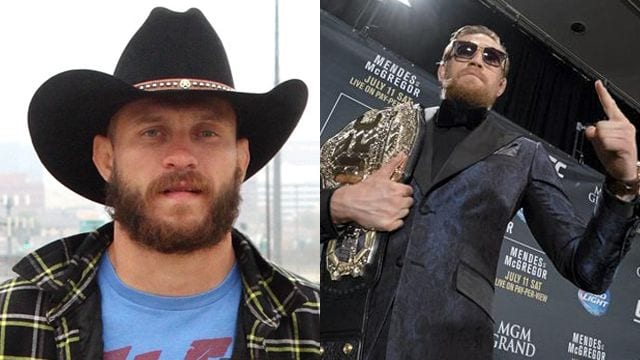 Not My Buddy, Guy
Although he sees McGregor as the class clown, Cerrone acknowledges the good he's done for the sport:
"He brings a lot of people, so my hat's off to him for that," added Cerrone, "but just like hang with him like a fella, no, he'd never be my buddy."
Will Conor McGregor and Donald Cerrone ever fight? Given their recent tendency of fighting in multiple weight classes and their constant rivalry, why the heck not?