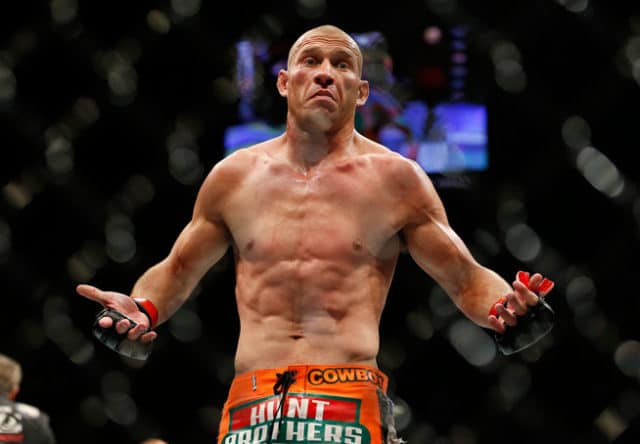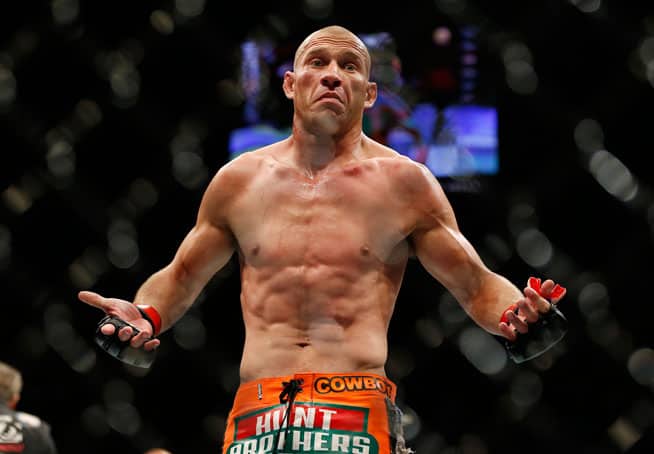 Donald Cerrone tells the story of how a guy punched him in the face for looking like a UFC fighter…..
Exciting UFC lightweight contender Donald Cerrone is no stranger to encountering crazy situations in and outside the octagon. With his upcoming title fight with Rafael dos Anjos looming, 'Cowboy' is becoming a very well known face, although apparently not everyone has heard of him.
You may have heard that Cerrone walked away from a fight with some random guy in a 'Whole Foods' parking lot recently, well Cerrone stopped by to tell Joe Rogan the full story during the UFC commentator's JRE podcast. Check it out:
"I'm walking, texting on my phone, and a guy lays on the horn. My girl is like 'Who is that?', I'm like 'I don't know' and the guy goes and parks his car and gets out like 'What's up motherf*cker?' and I'm like 'Who, me?' and he's like 'Yeah, bitch'. Then he just smokes (punches) me right in the eye, and my glasses go flying on the floor. Bear in mind I'm on trial for this whole boat rage thing at the time, where I allegedly head kicked some dude."
You'd expect any one to react by firing back with everything they have in the tank, but for a trained MMA fighter it's a whole different story. Considering the time he (allegedly) knocked a dude out for hitting him on a boat, 'Cowboy' decided to take the high road.
"My girl looked at me, burning fire is raging out of my ears, she say's 'No, just no'. So I said 'Dude, today is your lucky day!' then he comes at me again and I said 'No dude, if you hit me again it's over for you, I'm not gonna take two.' Then Leonard (Garcia) goes to hit the dude, and we were just literally done training and in our training gear, and this dudes like 'You wanna be UFC fighters, f*ck you!'. He got lucky as fuck!"
Rogan then asks 'Cowboy' to speak about the notorious boat rage incident, where he supposedly blasts a guy with one of his infamous Muay Thai head kicks. Cerrone is more than happy to go in to detail:
"This is what happened, we're up in Grand Lake. The reason I go there is because it's cold and no one goes there. I like to wake board there. This guy, he lives there, he called the police the week before complaining that I was 'Massaging and making love to a boat' yeah I take care of my boat, it's an expensive boat, I wax it and make sure it's clean. The guy comes in on a jet ski, he sprays water on me, there's nine of us there all fighters, Cody Donovan wants to just go get him but I calm him down."
"Then later on this guy's down on the shore and he's flexing his muscles at us like 'Which one of you pussies wants some?' Then he comes out on his boat and lets go of the wheel, runs right up to the front of his boat as it hits my boat. I said 'Dude, what the fuck are you doing?' He says 'Which one of you pussies wants some shit?' Everyone starts bickering with him a bit, he's wasted drunk, then he tears of in his boat and comes b-lining for my boat. At the last second he cuts and throws a massive wave that hits everyone and soaks their phones and stuff. Then my girl said 'That's it!' and that's all I need to hear."
So this time it's clear that the other guy has gone too far, but then he makes a massive mistake. As Cerrone gets off at shore to throw down with the drunken local, the buffoon instead goes straight for 'Cowboy's' girlfriend, according to Cerrone himself:
"He comes straight for my girl, pointing his finger at her and getting in her face. I walked right in front of him and just kick him in the stomach and send him to the sand. I said 'Chill the f*ck out!' A lot of crazy stuff is going through my mind, but I don't do it, and then he tries to sucker punch me with a right hand. I slip it and I hit him with a head kick, but a light one Joe, not a hard one. He goes down and now he won't get up."
"I sit down right next to him, I don't know what to do, I wanna back fist him in the face like 'You motherfucker!'. I want to rip this dude's heart out, it was weird. I was in a fit of rage, Cody grabs me and enough was enough. As soon as I got up this dude takes a photo of me and my boat, then he phones 911 and the cops show up. Then it was a two year process, he tried to come at me for $50,000 and then it got dropped. It was unbelievable."
It seems wherever Donald Cerrone goes, trouble usually follows him Massive props to him though, if his recollections are accurate, he showed a lot of control with what sounds like a couple of top level a-holes.
In the life of a UFC athlete, it's not as simple as defending yourself against attackers like the two he recalled, because he could quite easily kill them with one or two clean strikes. It's an art to master self control, and maybe that will translate in the rematch with Rafael dos Anjos in Orlando.
We'll see.
If you enjoyed this story, please share it on social media!