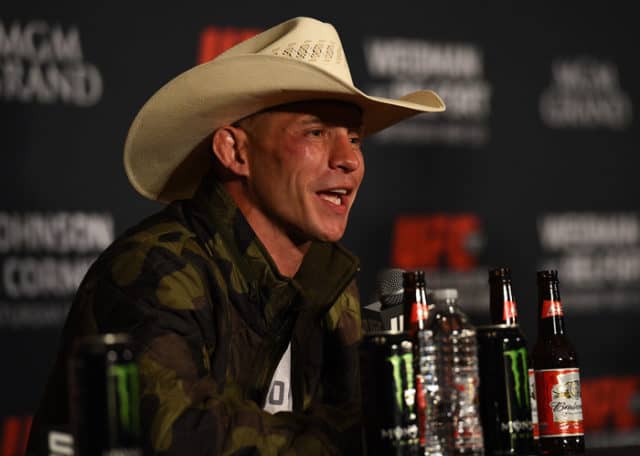 Things didn't go as Donald Cerrone had planned heading into his latest fight.
As seen in the main event of Saturday's (June 23, 2018) UFC Singapore event in Kallang, Singapore at the Singapore Indoor Stadium on the promotion's streaming service, UFC Fight Pass, the former title contender lost to rising contender Leon Edwards by unanimous decision.
As a result of this loss, Cerrone is now just 1-4 in his last five fights. On the flip side, Edwards continues to rise up the welterweight rankings as he is now on a six fight winning streak following the biggest win thus far in his pro-MMA career.
Following the event, Cerrone cleared up talk about he'll retire from the sport and what's next for him.
'Cowboy' will fight until told by the UFC to stop and even has plans to fight two more times this year.
"I don't think I lost any stock," Cerrone told reporters at the UFC Fight Night 132 post-event news conference (transcript courtesy of MMAJunkie). "I love my job more than any of you can ever imagine. I love getting in there and fighting, so winning and losing is part of this game. Of course it sucks. I only got half my check, but hey, I had fun. I really did. I had a good time."

"He went out there and got the unanimous decision, five rounds, good for him," Cerrone said. "Congratulations. I'm still looking to fight two more times this year, so if there's anybody out there looking to fight 'Cowboy,' the old dog, give me a call and we can set this up."

"I'm going to go until UFC says, "'Cowboy,' enough, bro. Enough, enough, enough,'" Cerrone said. "(I want to fight) at least five more years, definitely. At least. Until the UFC says, 'No more.'"