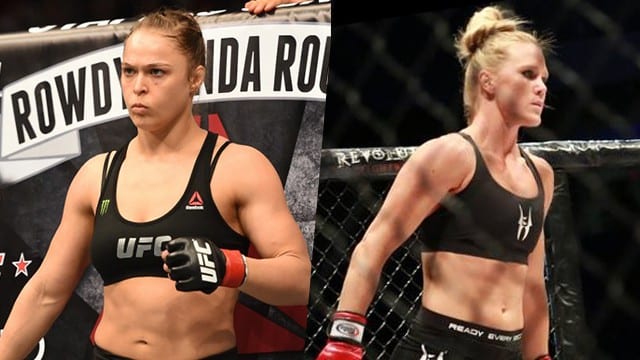 This Saturday (November 14, 2015) UFC women's bantamweight champion Ronda Rousey will attempt to set the promotional all-time record for attendance at a live event when she squares off with Holly Holm in the main event of UFC 193 from Melbourne's 70,000-seat Etihad Stadium.
She'll also seek to extend her record streak of six title defenses against the undefeated Holm, a former boxing champion who has been talked about as being Rousey's biggest challenge for the past few years.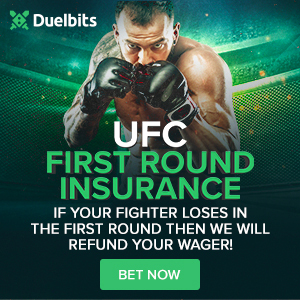 Yet many are still picking the dominant Rousey to finish off Holm with ease, and it's very hard to argue with them considering that she's ran through all of her last four opponents in a grand total of exactly two minutes combined.
Does "The Preacher's Daughter" actually have a chance against the undisputed queen of MMA this weekend? Let's examine why and why not.

Holm could use a ton of movement and kicks to keep the fight at range:
As the most polished striker Rousey has ever faced by a wide margin, Holm's best shot at winning this fight obviously lays in her world-class striking game.
She's going to have use every bit of her reach advantage on "Rowdy" to circle away from her power and grappling range while landing a high volume of low kicks. Holm can't rush in a straight line to meet Rousey in the center of the cage as many of her prior opponents did; doing so will certainly see her tossed on her head and submitted in a flash.
If Holm can use the cautious movement and range game she's exhibited in her only two UFC fights, two decision wins over Marion Reneau and Raquel Pennington, then she may have a strong chance to make this her fight. Keeping Rousey off of her for the duration will be extremely difficult though, so implementing some of the vicious knockout power she put on display in Legacy FC would help her shock the world.
Doing so against Rousey would most likely be one of the bigger upsets in sports history. Holm's only chance at beating Rousey is to keep up her circular movement as she lands strikes from afar, because the reason why she doesn't have much of a chance is much more swift and violent than her path to winning…

It's still probably over if and when it hits the mat:
The most glaring evidence to why Rousey is a massive 16-to-1 favorite over Holm is obviously thanks to Rousey's Olympic-level judo background, which has enabled her to throw and submit most of her opponents with shocking ease.
As a striker, Holm doesn't have anything close to the grappling expertise needed to beat Rousey at her own game. It'd be a wonder to even survive a minute, let alone a round, if Holm unfortunately found herself thrown onto the mat in the bout's opening exchanges.
That could certainly happen a high percentage of the time, so the main factor in Holm getting finished early is a very easy prediction to make. If Holm is unable to keep Rousey at range and is tied up in the clinch early on, she's going for a ride, so she needs to avoid rushing right into Rousey's waiting arms. Even when Miesha Tate was able to hang with Rousey on the feet before getting tied up and submitted in the third round, "Rowdy" was relentless in her pursuit of the finish.
She'll be the same way in Melbourne, and with the champ's newfound striking power, it's going to be a miracle if Holm even makes it out of the first round. To win would be a legitimate sports milestone, but it may be one of the most difficult tasks in combat sports to beat Rousey right now. Do you think Holm has any shot at shot at dethroning WMMA's ruler?