Current No. 10-ranked UFC heavyweight Derrick 'The Black Beast' Lewis is coming off of the biggest win of his career, as he took home a split decision win over Roy Nelson at UFC Fight Night 90 this past July.
Now the Houstonian is itching to get back into the Octagon against big name competition, and has former heavyweight king Fabricio Werdum on his radar.
Werdum was previously scheduled to co-headline UFC 203 in Cleveland against No. 5-ranked Ben Rothwell, but unfortunately 'Big Ben' was forced out of the competition citing an injury which opened up the door for No. 7-ranked Travis Browne to step in and save the day.
Despite Browne stepping in for the injured Rothwell, Lewis would take to social media to express his displeasure for the UFC's emergency booking:
How fans will be with Travis and Werdum @ufc #blackbeast #inthishoe pic.twitter.com/a9EcL9TsBl

— Derrick Lewis (@Thebeast_ufc) August 13, 2016
'Vai Cavalo' has seen Lewis' campaigns for a bout against him and, courtesy of MMA Junkie, the former Brazilian champ believes a matchup against 'The Black Beast' would certainly be a dangerous one:
"I think the fans would also like a fight against him," Werdum said. "He's dangerous, strong, heavy, right there at the limit. But Travis Browne will also be interesting, also because it's a rematch, they want to see it as well. With anyone, really, the important thing is coming out victorious."
Despite the fact that he was not able to step in at UFC 203, Lewis is ready to get back inside of the Octagon and believes he can beat anyone in the UFC's heavyweight division:
"I'm always working on myself," Lewis said. "I really don't care about my opponent. His strong suit or whatever, or his weakness, I'm just worrying about myself.
I feel like as long as my condition is on point I don't believe anyone can beat me. I don't care who that is."
Lewis was asked how he believes he matches up with current heavyweight king Stipe Miocic, and concluded that in the big boys' division i only takes one shot to put the other man across from him to sleep:
"I think I match up very well," Lewis said. "He's a heavyweight and everyone in the heavyweight division… One hand he can knock you out and this and that.
You know, I just look at everyone as just average, really. I feel like everyone in the heavyweight division can win on any given day. I don't believe anyone in the division, even myself, is unbeatable.
It really doesn't matter. I look at all of them the same, everyone average."
When asked on his thoughts of the newly-established fighter's union Lewis had no knowledge of it's existence but admitted he believes it is a good thing, while also stating that he doesn't believe in the fighters' need for a manager a the moment:
"I guess it's a good thing," Lewis said. "If it's got anything to do with us making more money, I'm down with it. I believe we don't need a manager right now, they can't get us no sponsors or anything. So we're wasting money on managers."
When told that his manager might be offended by his comments, Lewis had this to say:
"I don't care, what is he going to do?" Lewis said."'We can't manage you no more, I don't want your percentage?' OK"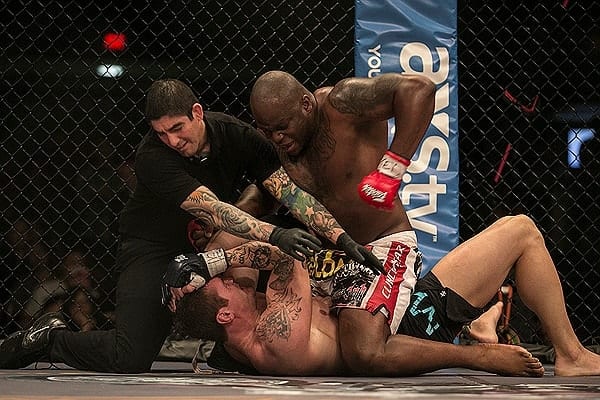 Earlier in the year Lewis made a bold prediction that 70 percent of the UFC's heavyweight division are abusing performance enhancing drugs (PED's), and now the former George Foreman boxing product is claiming he has no problem stepping into a cage fight against man who is 'juicing':
"I don't care if the guy is juicing or not, it really don't matter," Lewis said. "That stuff don't help, you know. It just makes you look good. But I believe steroids don't give you that extra boost when you go out there.
First of all, I believe the guys taking it, they're really insecure. So, that's the only advantage I see. Just being insecure about it and making yourself feel good. I guess they think they have that extra boost."
Following the interview Lewis took to Instagram to post that he will be taking on Marcin Tybura at UFC Fight Night 97 in Pasay, Manila, and his representatives confirmed the bout shortly after.
UFC Fight Night 97 takes place live from the SM Mall of Asia Arena in Pasay, Manila on October 15, 2016.