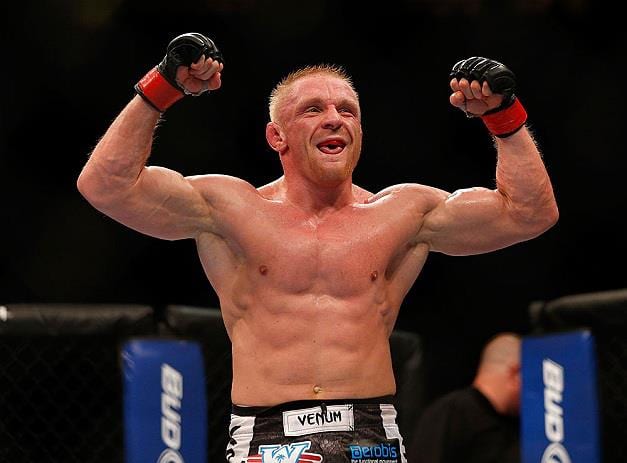 Heading into his blockbuster UFC Fight Night 59 main event against Irish superstar Conor McGregor this Sunday night (January 18, 2014), No. 10-ranked UFC featherweight Dennis Siver isn't getting much (if any) publicity as the supposed punching bag for "Notorious."
With both McGregor and his coach predicting early finishes of the German kickboxer, it almost seems like a foregone conclusion that McGregor starches Siver to earn a title shot at Jose Aldo in Dublin's 90,000-seat Croke Arena this May.
But Siver knows he can still play the spoiler by handing McGregor his first UFC loss.
Speaking to GroundAndPound.de, Siver hasn't been all that impressed with McGregor's body of work, believing him to be too hyped, too fast. He described a scene where he finishes "Notorious" and laughs:
"Everyone thinks I've already lost the fight. You can't hype someone after four fights. In his last fight he has looked good, but the battle was only two minutes or so. For me he landed a fluke punch [against Dustin Poirier], because until then, the whole thing was even. And his fights before that were also nothing special. I'm not impressed at all.
He promised to beat me in two minutes, but he can stick that prediction in his ass. When I finish him on Sunday, I'll laugh. I can understand all that shit talking in front of the camera, but when he does it privately, behind the scenes, that proves to me he is an asshole."
Fighting words from Siver, who, until now, has remained largely quiet about what undoubtedly ranks as the biggest fight of his life.
Last seen defeating Charles Rosas at UFC Fight Night 53's "Fight of the Night" last October, Siver has won three out of his past five bouts in the UC, a number that would be four out of five if not for his UFC 168 decision win over Manny Gamburyan being changed to a no contest after he was suspended for testing positive for hCG.
He has a chance to shock the world this weekend, but he'll have to defeat the Irish Nation and their countless faithful in Boston to do it. Do you believe Siver has a good chance to pull off the counter scenario he envisioned?