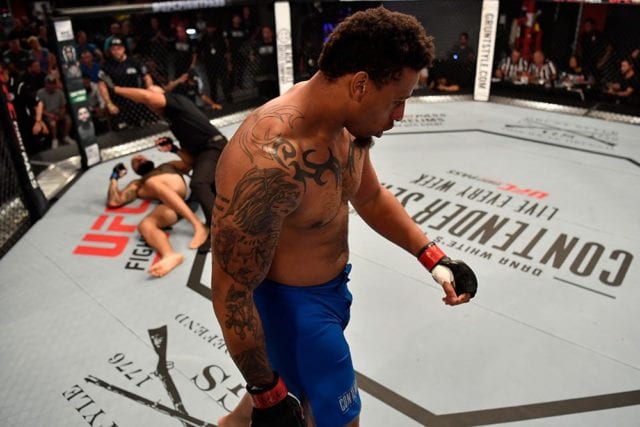 Greg Hardy has his next fight under the UFC banner set and it's going down earlier than originally expected. The second professional mixed martial arts fight for the former NFL star is reportedly close to being set as Ariel Helwani of ESPN.com is reporting that Hardy is slated to face Tebaris Gordon on the August 7 episode of Dana White's Tuesday Night Contenders Series in Las Vegas, Nevada at the Ultimate Fighter Gym.
This bout will mark the first on Hardy's new four-fight contract with Zuffa, the parent company of the UFC but it should be noted that officials don't consider it being an official UFC fight since this is the UFC President's show.
Hardy made his pro-MMA debut on the season 2 premiere (June 12, 2018) of 'Dana White's Tuesday Night Contenders Series' that aired on the promotion's streaming service, UFC Fight Pass, as he faced off against fellow former NFL player Austen Lane in a heavyweight bout.

Hardy does have a history of domestic violence that started back in 2014 when he was arrested for allegedly assaulting a former girlfriend and communicating threats against her life. As a result, he was convicted of domestic violence but after an appeal, the charges were eventually expunged from his record, which has led to people being skeptical of why the UFC wants to do business with him.

As seen in the fight, Hardy scored a scary KO after connecting with a right hook then followed up with a left hook and following the fight, White officially announced that the UFC has decided to sign Hardy to a contract.
Hardy was able to score his first victory as an amateur cage fighter in early November and returned in December for his second first-round knockout in MMA competition. His latest amateur fight came back in February at LFA 33 in Dallas where he made his promotional debut by scoring a knock out over Ryan Chester in 14 seconds in a heavyweight preliminary bout.