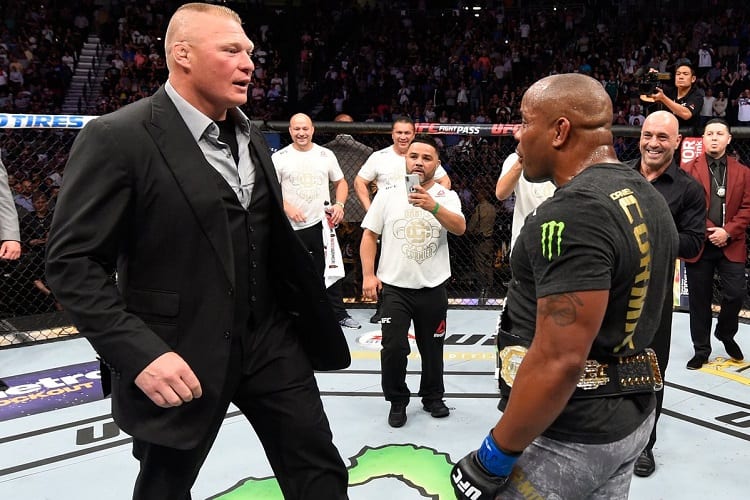 Daniel Cormier may be defending his heavyweight title at UFC 230 this weekend (Sat., November 3, 2018) against Derrick Lewis, but the double champ is still eyeing his big-money fight with Brock Lesnar.
Cormier knows he has his hands full at Madison Square Garden this weekend. "The Black Beast" has won nine of his last 10 fights and is a legitimate contender to "DC's" crown. On top of it all, if Cormier loses to Lewis at UFC 230, he can kiss his Lesnar payday goodbye. However, if "DC" gets the job done like he has done nearly every other time in his past, then he may be looking at another quick turnaround.
The promotion recently announced UFC 233. The event is set to go down at The Honda Center in Anaheim, California, on January 26, 2019. That date has piqued the champ-champ's interest.
Cormier Ponders Lesnar Fight Date
"January 26 in Anaheim," pondered Cormier. "Is Brock eligible by then?" asked "DC" during a recent media scrum earlier today (Thurs., Nov 1, 2018, in New York City.
Before Cormier can entertain welcoming Brock back into the Octagon, Lesnar must satisfy a six-month United States Anti Doping Agency (USADA) window. He will not be given any exceptions this time around, however.
Indeed, if "The Beast Incarnate" does take care of his USADA obligations he should be good to go come January 26. "DC" has already started the war of words with Lesnar, as the champ said Lesnar looks to be complying with USADA given his ever-shrinking frame.
"DC" Takes A Dig At Lesnar
"Well, he looks smaller on WWE right now? You see his face? He looks tiny. Yeah, maybe on January 26. I think I have a wrestling tournament that weekend, But we will see," added Cormier.
Despite the trash talk and their UFC 226 post-fight altercation, Cormier actually likes Lesnar and admires what the WWE star has been able to accomplish.
"I like Brock, I really do. Brock just isn't going to take no sh*t. Brock isn't going to mess around with you. But, I like Brock. I have known him for a long time, I met Brock in 1998," said Cormier, before he was interrupted by a gift of chocolates handed to him by a reporter.
If Cormier and Lesnar do get booked for January 2,6 it would be a blow to Bellator MMA. The finale of their World Heavyweight Grand Prix is the same night, also in California.
For fight fans, it would turn into quite the explosive night.