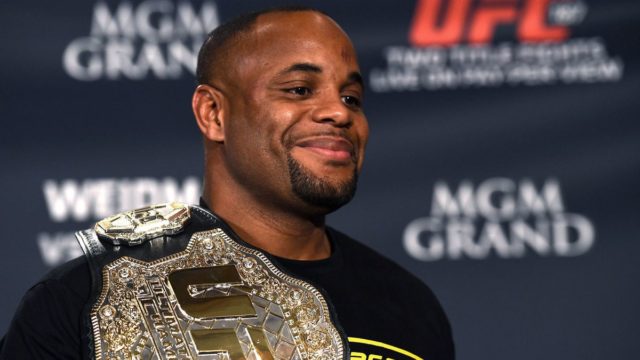 Daniel Cormier has dropped a teaser on why his upcoming fight with Stipe Miocic is so important.
The UFC light heavyweight champion is slated to fight UFC heavyweight champion in the main event of the upcoming UFC 226 pay-per-view event.
This will be a historic moment as in the past there has been no light heavyweight champion that has ever moved up to challenge the heavyweight champion.
Thus, if DC can get his hand raised inside of the Octagon then he knows it would be a huge moment in his pro-MMA career.
Cormier spoke with Ariel Helwani on this week's episode of the Helwani Show on ESPN+ to talk about the importance of this fight.
"This is the biggest fight of my life. This is the biggest fight I've ever been in," Cormier said ahead of UFC 226. "I have played a major part in some of the biggest fights in the UFC. I was at UFC 182, I was a big part of UFC 200, I was supposed to headline it. I was a massive part of UFC 214 and now this one.

"I have been involved in some of the biggest moments of the sports' young history and I'm excited about it and honored to be put in those positions. The UFC must trust me to put me in those positions over again and over again knowing that I'm going to show up and I'm going to do my thing."

"This is the battle for the baddest man on the planet," Cormier teased (transcript courtesy of MMANytt).
UFC 226 is set to take place on Saturday, July 7, 2018, at the T-Mobile Arena in Las Vegas, Nevada.
The main card will air on pay-per-view at 10 p.m. ET while the preliminary card will air on FOX Sports 1 at 8 p.m. ET and the promotion's streaming service, UFC Fight Pass, at 6:30 p.m. ET.
What's interesting about this fight is the fact that there has been no beef between Cormier and Miocic but rather all respect.
"It does feel good to respect my opponent," Cormier said. "I have the utmost respect for Stipe Miocic. If I would have just watched him from afar, as I did prior to the show, this would have been a lot easier. After being around him and learning about his journey and also his commitment to his city and his commitment to doing things the right way, it became where this had to be something astronomical to make this happen and it was something astronomical."

"I think that's what people imagine. Stipe is going to knock Daniel out, he's the small guy, the small guy's got to do something special," Cormier said. "All I got to be is Daniel Cormier and I will win this fight. I love Stipe, I think he's great but I think this is a fantastic matchup. Styles make fights and I think that our styles together combined will make for a fantastic evening in Vegas."