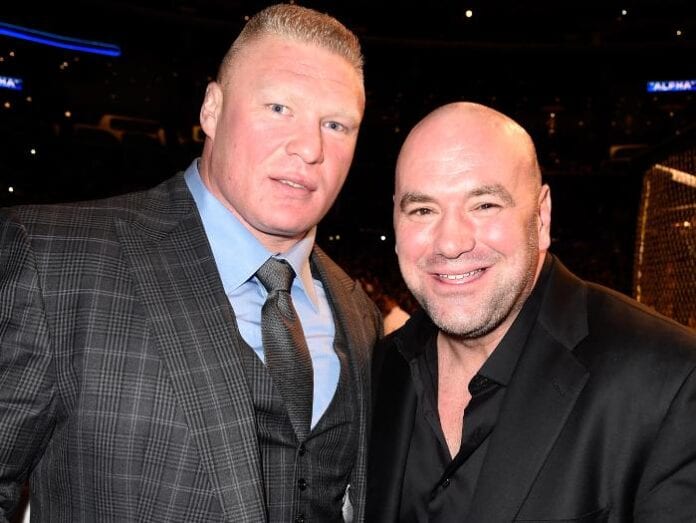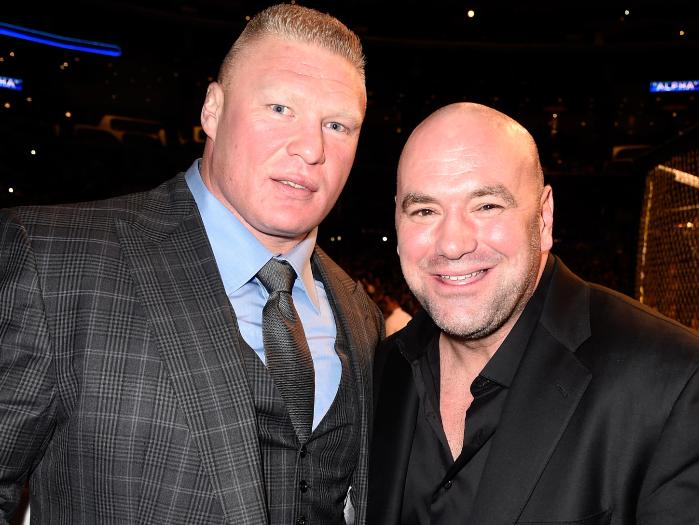 Throughout the first three months of this year, rumors have been circulating that former UFC heavyweight and WWE champion Brock Lesnar was returning to the Octagon for a third run in MMA.
Lesnar has been out of action since a wrestling-heavy decision win over Mark Hunt at July 2016's UFC 200, a fight during which he tested positive for banned estrogen blocker clomiphene and was handed a one-year suspension by USADA, in addition to being sued by Hunt.
But that suspension has run out, and so will Lesnar's WWE contract after April 8's WrestleMania 34 from New Orleans, Louisiana. The timing of the events opens up a path for Lesnar to return to the octagon even though his athletic prime may be nearing its last legs, and indeed both the UFC and Lesnar's camp have been none too subtle about their mutual desires to do business once again.
That lead to UFC President Dana White confirming that Lesnar was indeed returning to the UFC on this evening's "UFC Tonight," but didn't know when or against whom:
"Yeah, Brock Lesnar's coming back. I don't know when, but yes he is."
Lesnar was one of the promotion's biggest draws ever during his time as UFC heavyweight champion from 2008-2010, and even though his reign as champ was cut short by a trying bout with diverticulitis, he is still one of the most recognizable names in MMA.
He appeared in top shape during his win over Hunt, but obviously, his controversial use of performance-enhancing drugs could be deemed the reason why the 40-year-old monster was in such momentous condition.
He's been linked to fights with current UFC heavyweight champion Stipe Miocic and recent title contender Francis Ngannou, both of which would be massive bouts certain to provide the much-needed shot in the arm that slumping UFC pay-per-view numbers need.
Who should Lesnar fight in his anticipated UFC return?