Recent times have seen Tyron Woodley vent many frustrations against his employers and fans. Since winning the UFC welterweight title last July, 'The Chosen One' has been battling in and outside the octagon. Knocking out Robbie Lawler at UFC 201 was his crowning sports achievement thus far, but there was another storyline brewing. While Woodley was making his rise to the top, he was followed closely by surging striker Stephen Thompson. Having defeated Rory MacDonald, Johny Hendricks and Jake Ellenberger during his six-fight spree, fans were rooting for 'Wonderboy' to get the next title shot.
Although Thompson was eventually pegged for the Woodley fight, there was a brief period from which there came a lot of controversy. Talking about fights with Nick Diaz and Georges St-Pierre kept Woodley in line with the current trend of 'money fights.' Fans did not take well to this, and there was a backlash of sorts. Later revealing he'd actually accepted the 'Wonderboy' fight immediately, Woodley came out and accused fans of being racist. Simply glancing at social media will tell you all you need to know about the concentration of trolls around. That being said, this was just the tip of the iceberg as far as 'T-Wood' is concerned.
Mandatory Credit: Adam Hunger-USA TODAY Sports
Woodley vs. Thompson & Beyond
After their thrilling UFC 205 war/draw, Woodley and Thompson were inevitably linked to a rematch. With another fight in mind, 'The Chosen One' claimed he was subject to racism from not only fans, but also his employers. Stating he was 'the worst treated champion because of skin color,' Woodley was pulling no punches. Although the UFC released a statement saying they'd reached out to Woodley, Dana White, it appears, is not so understanding. Here's what the UFC president told ESPN Radio's Russell and Kanell, as quoted by MMAMania.com:
"That's not what people want to hear," said White regarding Woodley's racism comments. "People don't want to hear that. And then what he does is he'll start fighting and arguing with people on social media. Then he wonders why when we show up to a press conference, the whole crowd is booing him. They're not booing him because he's black. There's tons of black guys fighting in the UFC, you know what I mean?"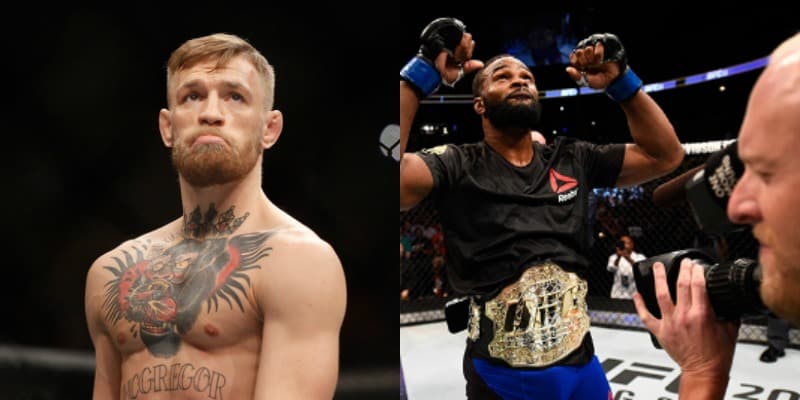 White Says Woodley Should Be Like McGregor
""If Tyron Woodley had that attitude, Tyron Woodley would be a massive star," said White. "Massive star."
Whether or not you agree with Tyron Woodley, is there anyone in a better position to judge this situation? As Thompson said, perhaps Woodley is seeing things the rest of the roster doesn't, or they just refuse to talk about it.