Dana White just shut down rumors of Georges St-Pierre fighting the winner of Conor McGregor vs. Khabib Nurmagomedov.
St-Pierre has said on several occasions that he is considering a drop down to lightweight. The Canadian wants to become the first fighter in UFC history to win three titles in different weight classes.
With the possibility of St-Pierre contending for a lightweight title, there's a legitimate chance he could end up fighting Conor McGregor.
McGregor is a former featherweight and lightweight champion in the UFC. He was stripped of his 155-pound title earlier this year due to inactivity. ""The Notorious" hasn't competed inside the Octagon since November of 2016. That was when McGregor knocked out Eddie Alvarez to win the lightweight title at UFC 205.
McGregor took a significant amount of time off to enjoy the birth of his first child and participate in a boxing fight with Floyd Mayweather Jr. After a losing effort against "Money" inside the squared circle, the Irishman is ready to return to usual proving ground of the cage.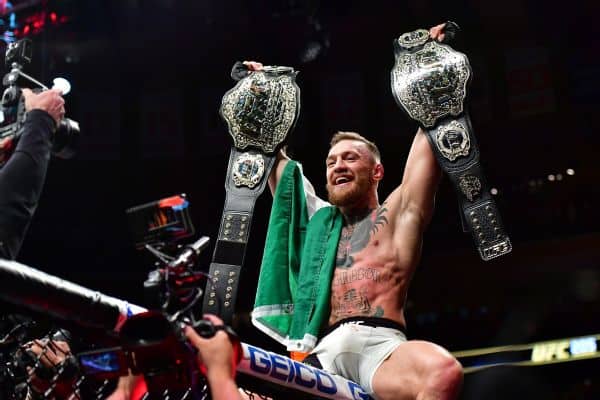 McGregor will make his UFC return in Las Vegas on October 6th. He will cap-off a legitimate rivalry with 155-pound champion Khabib Nurmagomedov. Many are predicting it will be the biggest fight in the history of the UFC.
In regards to St-Pierre possibly fighting the winner, many are expecting that to be the UFC's next move – especially if McGregor emerges victorious. That has potential to do ridiculous pay-per-view (PPV) numbers.
UFC President Dana White spoke to the media after yesterday's (Tues. August 7, 2018) Dana White's Contender Series taping. White seems to have a gripe with "GSP's" history of vacating titles. He said it's unlikely St-Pierre gets a shot at the winner of Nurmagomedov vs. McGregor (quotes via MMA Junkie):
"Yeah, that's probably not going to happen," White said. "He gave up the 170-pound belt, he gave up the 185-pound belt. I mean it's like – no. Pick a division."
As for when MMA fans can expect to see GSP return, White doesn't have a clear answer yet. He admitted that a card in Toronto would be ideal:
"No, we haven't talked, but it sounds like we will," White said. "Toronto makes sense. Toronto wouldn't be bad."