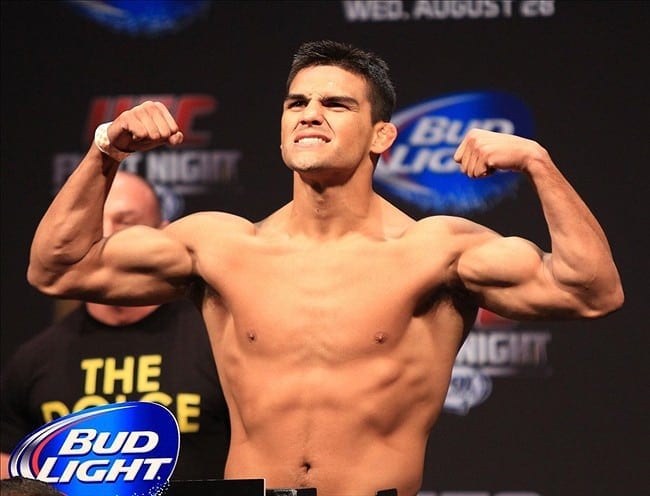 UFC 183 is set to go down tonight (January 31, 2015) live on pay-per-view from the MGM Grand Garden Arena in Las Vegas, Nevada. Last night (January 30, 2015) the weigh-ins for the card took place in the MGM as well, and there were two unfortunate occurrences.
John "Hands of Stone" Lineker who is taking on Ian McCall in a preliminary bout weighed in five pounds over the flyweight limit, while Kelvin "Mini Cain" Gastelum who is set to meet Tyron Woodley in the co-main event, weighed in a whopping 10 pounds over the welterweight limit, after being hospitalized prior to the weigh ins as well.
This not the first time missing weight for either man. Gastelum has failed to make weight twice in the UFC, while Lineker has missed weight four times. It now looks as if UFC president Dana White is not too happy. Speaking with Combate, transcribed by MMAFighting, White said both men will be forced to move up in weight for their next bouts:
"Lineker will never fight at flyweight again. He will have to move up to bantamweight," White said. "Same thing with Kelvin Gastelum. This was the last time he will fight at welterweight. He has weight issues, had to go to the hospital and was cleared by the doctors to come to the weigh-ins. He came here 10 pounds over. He will have to move up to middleweight."
This makes sense as Gastelum is a natural 185 pounder and Lineker has also competed at 135 pounds. Gastelum was the The Ultimate Fighter (TUF) 17 winner as a middleweight, and Lineker fought mainly as a bantamweight in Brazil, before signing with the UFC and cutting down to flyweight.
This is also an unfortunate situation for each combatant because both men could be quite close to a title shot in their current divisions. "Mini Cain" is 4-0 as a welterweight, and a win over No.3-ranked Woodley would put him right near the top of the division. For Lineker, his fight with McCall has been deemed a title eliminator bout, with the winner getting the next shot at flyweight king Demetrious Johnson.
However, Gastelum and Lineker will have to make a name for themselves in new divisions after tonight's event. Is this the right call from the UFC president?