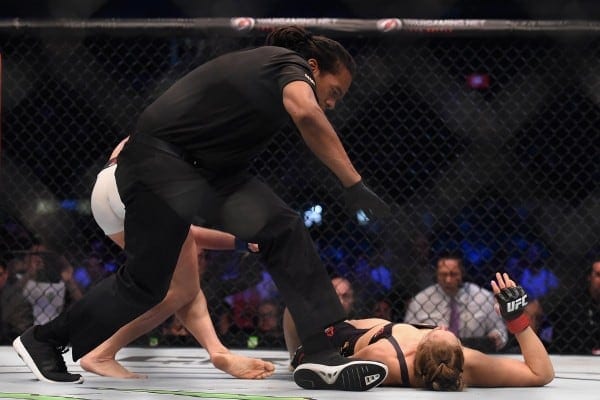 As the entire UFC universe attempts to pick up the pieces of Holly Holm's transcendent head kick knockout of Ronda Rousey (full fight video highlights here) in the main event of last night's (Saturday, November 14, 2015) UFC 193 from Etihad Stadium in Melbourne, Australia, there may be not other man who lost as much as Rousey did other than UFC president Dana White.
With many of his eggs heavily invested in Rousey's basket, the president saw the unfortunate, unpredictable side of MMA when Rousey came in with what seemed like a extremely poor gameplan that included rushing the precise counter striker Holm on the feet.
Rousey paid the ultimate price for it, as she was knocked out in brutal fashion, resulting in a series of photos that will long be etched into MMA history. The champ was reportedly sent to the hospital after the brutal and bloody affair, and White told Ariel Helwani that was indeed the case during an interview after the epic bout:
"Yeah, she went to the hospital. Her lip is split, and they're gonna have to sew her lip, you know, put some stiches in it, but other than that, she's good."
White also confirmed that Rousey did not suffer any serious injuries in the fight despite the fact that he thought she did early in the fight:
"No. Because I actually thought, you know, her mouth was open in the first minute-and-a-half of the first round; I thought she broke her jaw or her nose or something, but she didn't. As far as I know, she's good."
Looking back on the frenzy of attention Rousey has received as of late, White then touched on the all-out media blitz that her life had become, conceding that there was no way it could not have adversely affected a human even as stalwart as Rousey:
"It's been an interesting camp for her and it's been a rough couple of months for her. I think it's impossible to say that doesn't affect her, you know? But she's the mentally strongest person that I've ever met; she's a workhorse, she eats stress. She's unlike anybody I've ever met; if anybody could deal with it, it's her. But at the end of the day, she's human."
A good friend of Rousey in addition to her boss, White said he believed that the loss wouldn't change "Rowdy's" plans to take a break from MAM after UFC 193:
"I think she has. I don't think there's any rush. Doesn't matter; she still has a movie to film, and she's still doing all the things that she has to do before she fights again. So I wouldn't see her back anytime sooner."
White then explained his stance on the shocking bout, admitting he obviously thought Rousey would have more answers for what he deemed an obvious gameplan to use her range and movement by Holm:
"I don't know if it was smooth sailing; she got hits with a couple of big punches in the fight too got hurt, but, um, the fight went down the way I thought the fight would go down. Her staying on the outside, throwing head kicks, throwing punches, trying to keep Ronda out of the clinch. You know, obviously I thought Ronda would have more answers for what was happening, but yeah, that was how I expected Holly would fight her."
Finishing up the wild night, White said he does not think Rousey was exposed in Melbourne, she was simply beat by the better woman in "The Preacher's Daughter":
"Every time somebody goes on a win streak forever and they do great things and they lose one, they become exposed. No, I don't think Ronda was exposed tonight; I think Ronda just got beat tonight."
If you enjoyed this story, please share it on social media!