Dana White Destroys Kamaru Usman's Post-Fight Trash Talk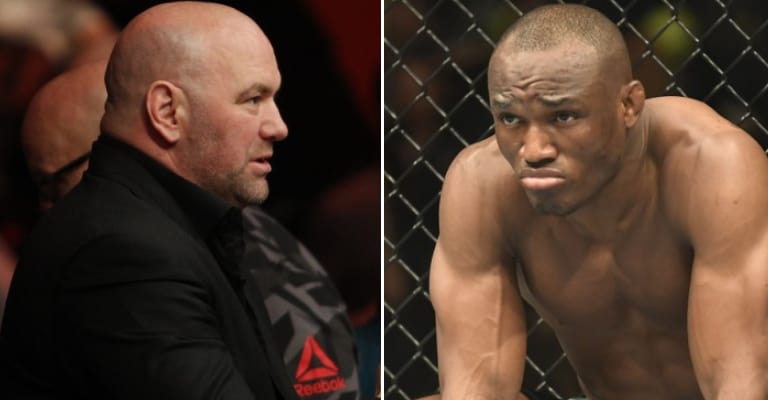 With six straight wins in the talented and tough UFC welterweight division, No. 10-ranked contender Kamaru Usman is looking to break through into the true 170-pound elite with a huge fight his next time out to the cage.
That may be tough following his dominant, wrestling-heavy win over Emil Meek at last night's UFC St. Louis, however.
After a grinding showing where he repeatedly ground "Valhalla" with impressive slams and relentless chain takedowns but did little else to threaten a finish, Usman got on the mic to say that he was only '30 percent' for the bout before calling out top-ranked contender Colby Covington.
Directly after his victory, he reiterated that in a post-fight appearance online, adding that he was also the most dominant welterweight on the planet:
"The most dominant welterweight on the planet." 🌎

Do you agree w/ @Usman84KG? #UFCSTL pic.twitter.com/ctyxAVLuJw

— UFC (@ufc) January 15, 2018
Statements like that are never met with much forgiveness in the fight game, as assigning an arbitrary number to your overall performance is impossible to quantify and also leads to a murky cloud of jumbled perceptions about just what the numbers mean.
Not surprisingly, UFC president Dana White was among the doubters of his strange post-fight antics, noting on the FOX Sports 1-aired post-fight show that Usman's words were legitimately one of the 'most ridiculous' things he had ever heard when asked about it by show co-host Michael Bisping:
"I agree with you. First of all, you don't come out, when you have a performance like that – I didn't love that fight by the way – yeah, he's a tough guy, yeah, he can impose his will, but then you don't jump up and start talkin' smack like you just knocked somebody out or somethin' and say you only went 30 percent.

"So what's that mean? So what if you're on a pay-per-per-view, you use 60 percent? It's one of the most ridiculous things I've ever heard somebody say. And you're gettin' booed out of the arena on top of it, so, I don't know, we'll see what's next for him."
As the backlash grew for his self-gauged status number, Usman got online and explained he meant that he was only 30 percent healthy for the fight and still picked up a one-sided victory:
Let me clear something up since some didn't understand my post fight interview. What I meant was that I came into the fight at 30% health. I could've pulled out but I chose 2 stay the course & give @emilvalhalla his chance @ a top 10 guy. I fight anyone, anytime even at 30%.

— KAMARU USMAN (@USMAN84kg) January 15, 2018
Even at 30% health, dealing with adversity, & a game opponent like Meek I was still able to dominate.

— KAMARU USMAN (@USMAN84kg) January 15, 2018
His win streak has put him up among the best welterweights in the UFC as of right now, no small feat in and of itself. However, in today's promotion-focused MMA era, being palatable to fans in both in-cage fighting and outside-the-cage appearances is of critical importance.
Usman seemed to make few new fans last night in that regard, and he may have lost some he had. It's fitting for him to meet Covington, also a surging wrestler with a strong win streak intact, as both have grown in terms of their heel status recently and are now alike in more ways than just their go-to skillset.
There's little doubt that Usman can give even the best welterweights in the octagon issues with his smothering top game, but with a champion who often wins in a similar fashion already at the top of the division, will he ever be able to become a true star?