Dana White has pulled the old bait-and-switch on us yet again.
Only days after saying that returning former welterweight champion Georges St-Pierre would meet the winner of the welterweight title fight between Tyron Woodley and Demain Maia in the co-main event of last night's UFC 214 after GSP's rumored fight with Michael Bisping was a 'ship that had sailed,' White laid into Woodley vs. Maia at the post-fight press conference after the bout failed to deliver in any way:
"What'd you think about watching the Woodley fight? Listen, when you break a record for most for the least punches in a five-round fight, a title fight, and you beat it by, it was 130 and these guys threw 60 or something like that, then I think that sums it up."
White was then asked if St-Pierre vs. Bisping was back on due to the lackluster nature of Woodley's performance, to which the outspoken executive replied it indeed was before explaining why:
"Yep. Yep. There you go. Because I know Michael Bisping will fight. Michael Bisping will show up and he will fight, so I'm gonna give it to him."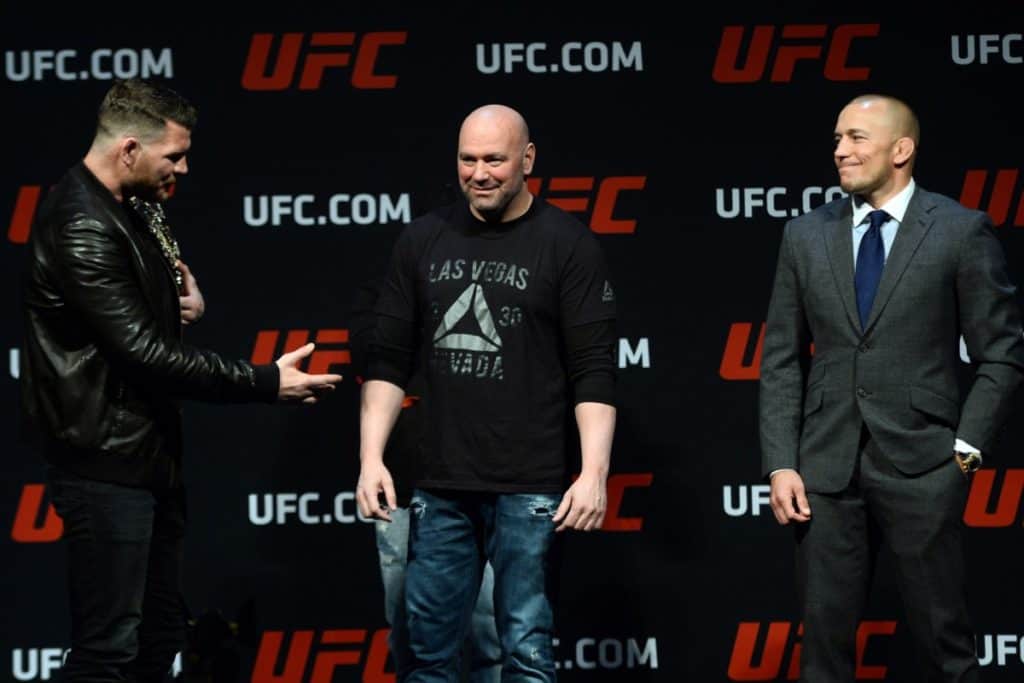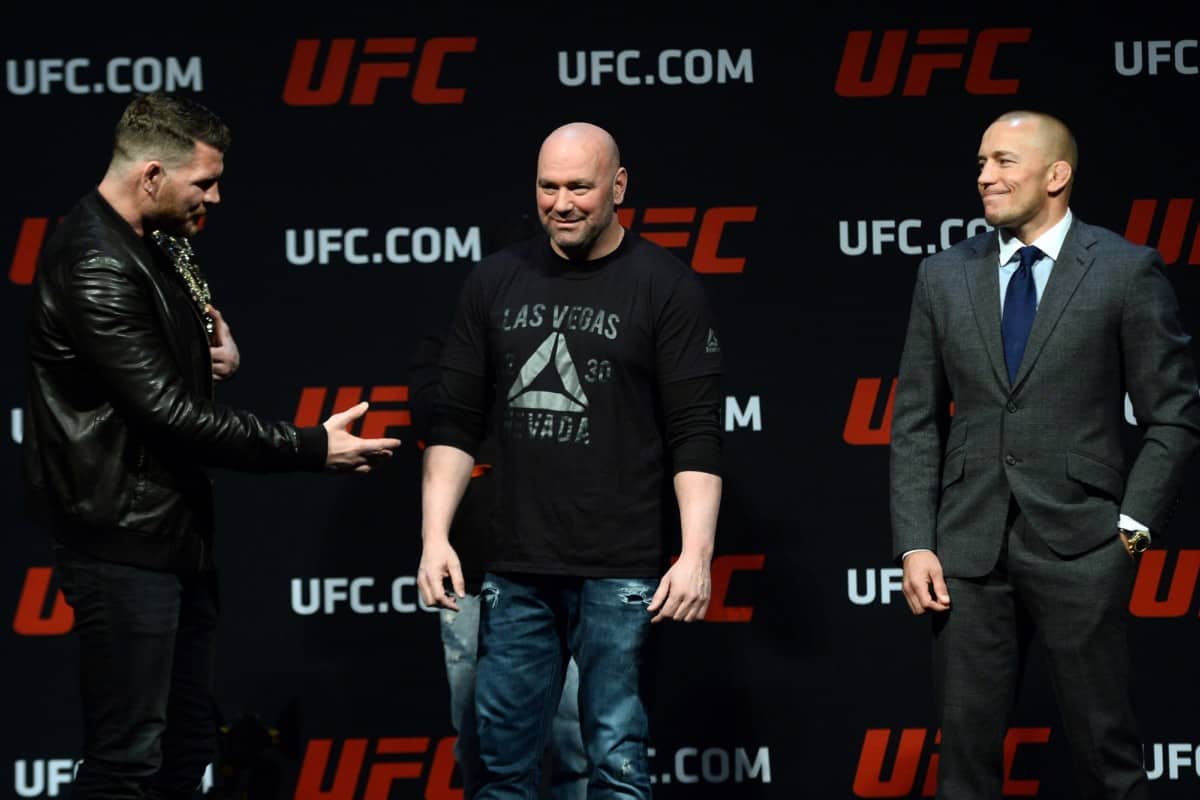 Now, it's fair to say that the long-tenured "Count," who's no doubt as reliable as any fighter in UFC history, isn't exactly known for putting on the most earth-shattering performances in the octagon, as many online have perhaps given him a reputation for having no knockout power at all.
But with his recent finish of Luke Rockhold to win the belt at 2016's UFC 199 coupled with his close, hard-fought victories over Anderson Silva and Dan Henderson last year, it's hard to argue that Bisping isn't exciting and willing to bring the action to his opponents. His prospective foe St-Pierre has obviously garnered his own reputation for being a safe, calculating fighter – perhaps more so than any other competitor in MMA after his upset loss to Matt Serra.
Taking that into account, a bout pitting a safe fighter like 'GSP' against Woodley, a champion with all the well-rounded skills in the world who simply appears to refuse to use them at times, has correctly been deemed a fight that would not be entertaining to the fans.
For his part, Woodley said that he had seen this coming, citing his reply to White's initial suggestion that the winner of his fight would face St-Pierre:
"Did you hear my reply at the press conference when he said I was going to fight the GSP-Bisping winner if I won? I said, these guys are already talking about fighting each other."
The champ then suggested St-Pierre didn't want to fight him because he was just a better version of the legendary welterweight champion:
"GSP doesn't want to fight me, because I'm a better version of him."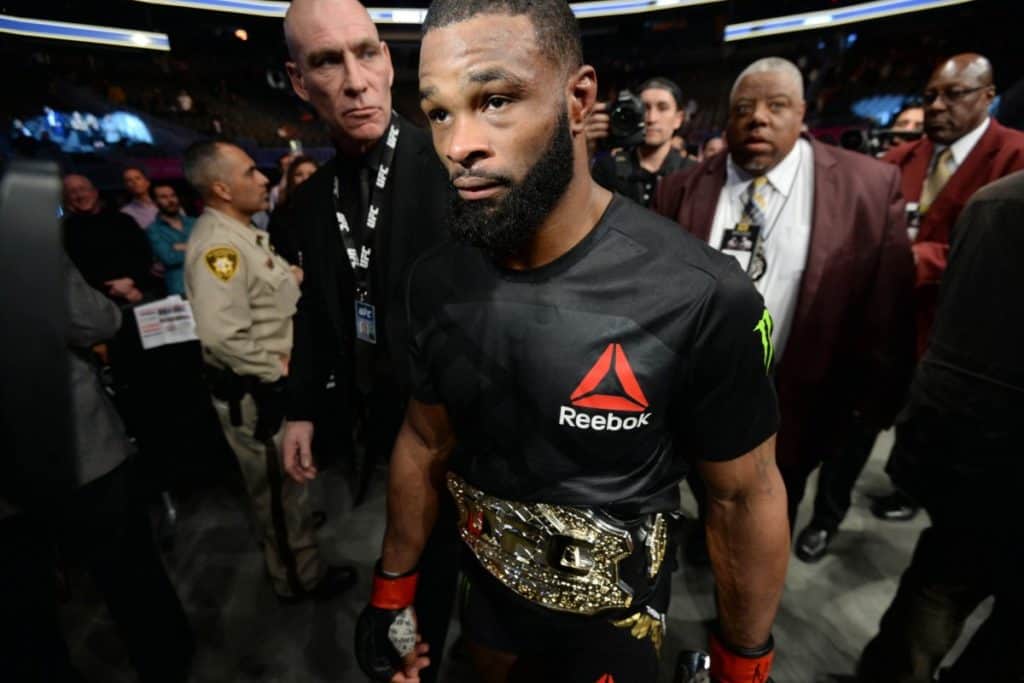 That's certainly debatable, but for now, it looks like "Rush" will get the next crack at Bisping's middleweight title.
Of course, interim middleweight champion Robert Whittaker should be getting the next rightful shot at the UFC 185-pound belt, but a knee injury suffered in his impressive decision victory over Yoel Romero at UFC 213 will keep him out of action until 2018.
White said Whittaker would fight the winner of Bisping vs. St-Pierre, but he did not yet have a date for the bout, which was revealed at a press conference prior to UFC 209 this March, an event where Woodley ironically put on another highly tentative performance in his feature bout versus Stephen Thompson.