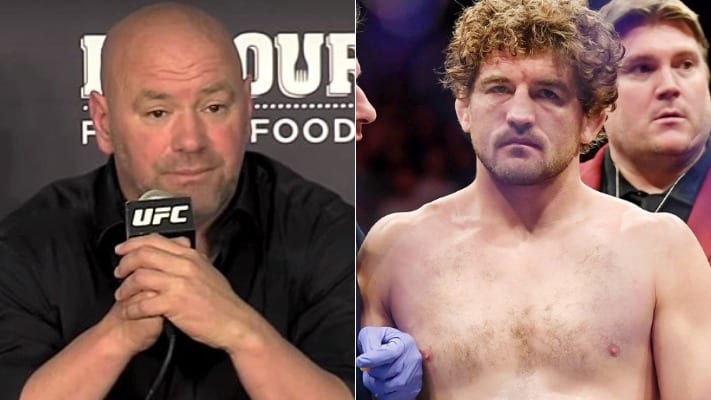 Much has been made regarding the future of Ben Askren after his five-second knockout loss to Jorge Masvidal at UFC 239 this past weekend (Sat. July 6, 2019).
Many speculate that "Funky" may have fought the last fight of his mixed martial arts (MMA) career after suffering a grizzly knockout defeat – the first of his run in the sport. Following the show, TSN's Aaron Bronsteter caught up with UFC President Dana White.
White was asked where Askren goes from here after being knocked out. Here's what the UFC boss had to say:
"Listen, I like Ben," White said. "We finally got a deal done, we came in here, we had fun. He has had a rough two-fight run in the UFC. What I do love about the kid and respect, he's not afraid to fight anybody. He's calling out all the big dogs in the UFC and was willing to fight anybody."
Not only was Askren's knockout the fastest in UFC history, but it's certainly up there for one of the worst. "Funky" immediately shot in on a takedown, and Masvidal, expecting the move, sprinted forward with a flying knee.
Askren was immediately rendered unconscious and ate some questionable follow-up shots before the referee stepped in to stop the action. Aside from a brief comment after the fight, Askren has not yet commented on his future.

Do you think Askren will fight in the UFC again after suffering the fastest knockout loss in promotion history?