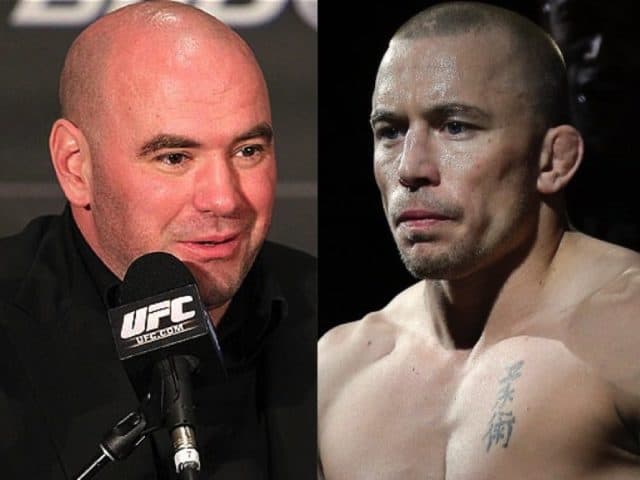 Dana White addresses the current status of former UFC welterweight and middleweight champion Georges St-Pierre with the Las Vegas-based promotion.
The former UFC welterweight and middleweight champion returned to competition in November of 2017 after four years away from the sport to win the middleweight title.
The ending of that fight went down with a submission victory in the third round over Michael Bisping at UFC 217. However, shortly after the fight, he had to vacate the title as he is dealing with colitis.
Dana White Addresses
The UFC President recently spoke with the BBC where he talked about having GSP fight at his original weight class at welterweight rather than going after big money fights that the former UFC champion has been aiming for.
In the past few months, there has been talk of GSP fighting Anderson Silva or even the winner of Conor McGregor vs. Khabib Nurmagomedov.
"I'm interested in Georges St-Pierre coming back at 170 [pounds]," White said (transcript via Bloody Elbow). "Not at 155 pounds."

"He was the 170-pound champion. He moved up to 185 pounds to take on Michael Bisping and put in his agreement that he would absolutely defend the title at 185. Then just dumped the title," he explained. "I'm not interested."

"Georges St-Pierre is looking for one off fights where he can make a lot of money. Which it's smart, that's what he should do but we're not interested in that."
Potential Date
White did make it known that he's not sure what the future holds for GSP or if he does return to action. However, one would have to think that if he were to make an Octagon return then it would be at the UFC 231 PPV event.
"I don't know. He's not too excited about fighting or defending his title or anything like that," White said. "I don't know if he'll ever fight again."
The UFC 231 pay-per-view is set to take place on Saturday, December 8, 2018 at Scotiabank Arena in Toronto, Ontario, Canada. The main card will air on pay-per-view at 10 p.m. ET. The preliminary card will air on FOX Sports 1 at 8 p.m. ET and UFC Fight Pass.