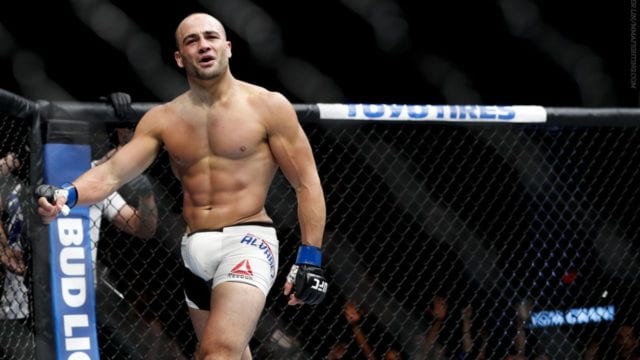 There's a chance former UFC lightweight champion Eddie Alvarez will be leaving UFC.
Things didn't go as originally planned for one of the best fighters in the lightweight division on the last fight of his contract.
In the main event of UFC on FOX 30 event at the Scotiabank Saddledome in Calgary, Alberta, Canada that aired on big FOX, featured rising contender Dustin Poirier being able to score a second-round stoppage victory over Alvarez but there was some controversy as near the end of the fight, there was an incident that saw Alvarez threw an illegal elbow in the second round against Poirier which led to referee Marc Goddard order a standup as that was an illegal infraction and ultimately led to Poirier recovering, rebounding and scoring a TKO win.
This was the last fight on Alvarez's contract with the UFC despite the fact that before accepting the bout agreement, he wanted a new deal, which is understandable but UFC President Dana White didn't really care about that as he wanted to book his fight right away and thus, Alvarez took a chance on himself.
White addressed this situation where Alvarez is willing to take offers from other promotions including Bellator MMA where he has fought before coming to the promotion. White stated as a guest on the most recent "UFC Unfiltered" podcast that he is good either way whether Alvarez stays or goes (transcript courtesy of Bloody Elbow).
"I like Eddie Alvarez. I like him personally, and I like him professionally. He's at an age now where he needs to make some decisions for his family and for what will probably be the last contract he signs for the rest of his career. I'm in a place if Eddie wants to go somewhere else and try it, I'm cool with that. If Eddie wants to stay, I'd keep him here too.

"I told him that. I told him, 'Listen, if you want to finish your career with me I would like that. If you want to finish your career somewhere else, I have no problem with that either, man.' When guys get to the point where it's the last contract they'll ever sign, I understand."

"At the end of the day, what we're looking for here are young guys that want to be world champions," White said. "Young guys that know they can be a world champion in the UFC. Or girls that know they can be a world champion in the UFC. If you feel that you can't be and you feel there's a better decision you can make at this point in your career for the last contract you'll ever sign, I absolutely understand that."
Alvarez won't have an issue with getting some offers while on the free agent market as he is two-time Bellator champion along with his UFC lightweight title run but it will be interesting to see where he lands.