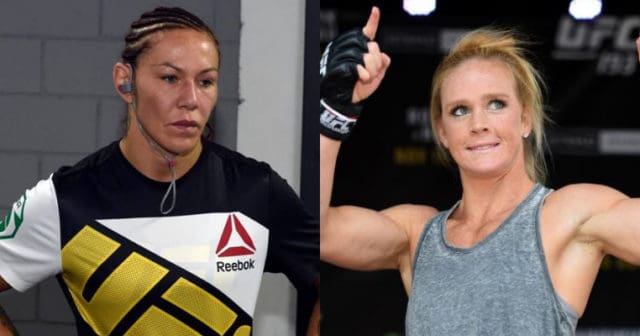 You must be new to MMA-That's a statement being thrown around a lot right now…
After years of campaigning for a UFC women's featherweight division, Cris Cyborg sees her requests granted in a strange twist of circumstances. Currently the Invicta FC 145-pound queen, and former Strikeforce champion, Cyborg has fought twice for the UFC at 140 pounds. Making that catchweight limit has proved far too risky for the Invicta boss, and now has led to complications both in health and her ability to even make featherweight. Essentially a direct result of her brutal weight cuts is a featherweight title fight Cyborg is missing out on.
According to the Brazilian wrecking machine, she was so ill after her latest weight cut that doctors couldn't draw blood. UFC president Dana White stated Cyborg had 'turned down two featherweight title fights,' one with Germaine De Randamie, and one with Holly Holm. Cyborg responded by saying she needs at least 12 weeks to safely make weight, and neither of these offers provided that buffer. Then came last night's big announcement, the opening of the UFC women's featherweight division, and Cris Cyborg is not invited.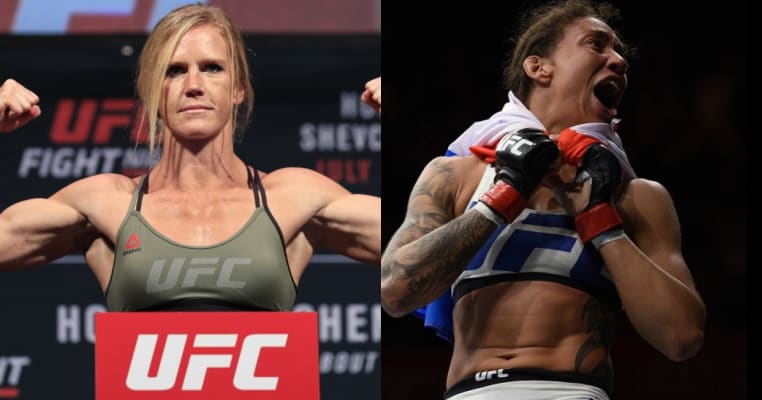 Holm vs. GDR
Unexpected? You could say that, some might question why the UFC is in such a hurry that they are making a 145-pound title fight without their best 145-pound fighter involved. Certainly Cyborg has attempted to clear this matter up, as she tells MMAFighting.com her opinion about Holm vs. GDR:
"I'm happy the UFC created my division. It's been 11 years I'm fighting for women to have the same rights as men with several divisions. Everybody knows I'm the featherweight champion," Cyborg said. "I'm undefeated for 10 years in my division. They put this belt only to sell the fight for the new MMA fans. For an example, Holly is coming off two consecutive losses and will fight for the belt. The real fight fans know what's real."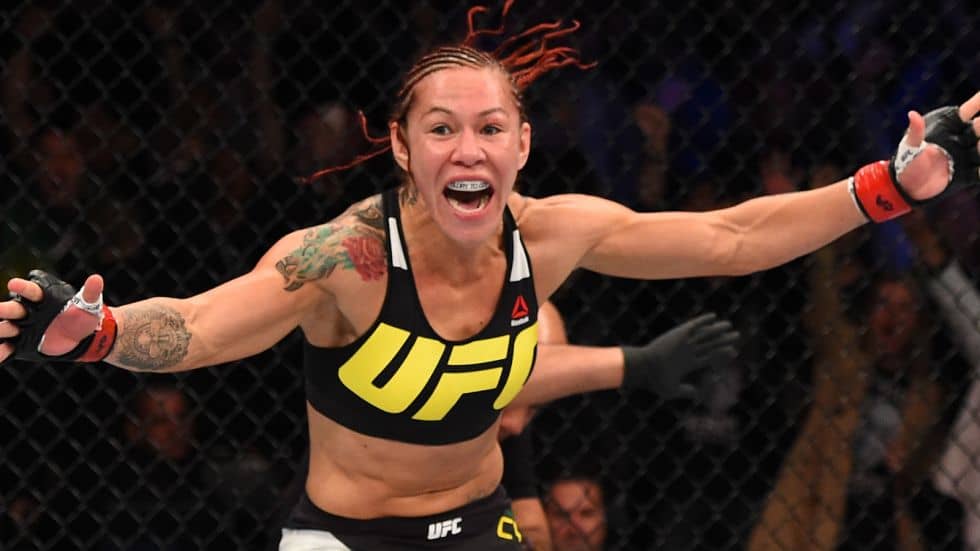 Catch 22
It appears that Cris Cyborg is somewhat caught in a trap right now. Perhaps with the inevitability that she'll receive a crack at the new champion, this isn't such a slap in the face. Then again, the upcoming inaugural 145-pound title fight at UFC 208 features a former champ coming off two straight losses. Cyborg likens this fight to the recent bout between Anthony Pettis and Max Holloway:
"I have no idea, there are no rules in MMA," Cyborg said. "The last fight in the men's 145-pound division, a 10-0 fighter fought a guy who was 1-5 in his last fights. Other fighters like me have to wait for a title fight. I'm fighting for my division for 10 years, and until yesterday Dana said there were no women. This is our reality."
Currently GDR is 3-1 in the UFC, 7-3 overall, Holm is 10-2 overall, 3- in the UFC. Both title competitors combined wins equal Cybrog's current unbeaten streak. The Brazilian has finished all but two of her victims, and even during Ronda Rousey's reign as champion, many considered Cyborg as the best female fighter.
What do you make of the UFC's decision-making process here?
If you enjoyed this story, please share it on social media!