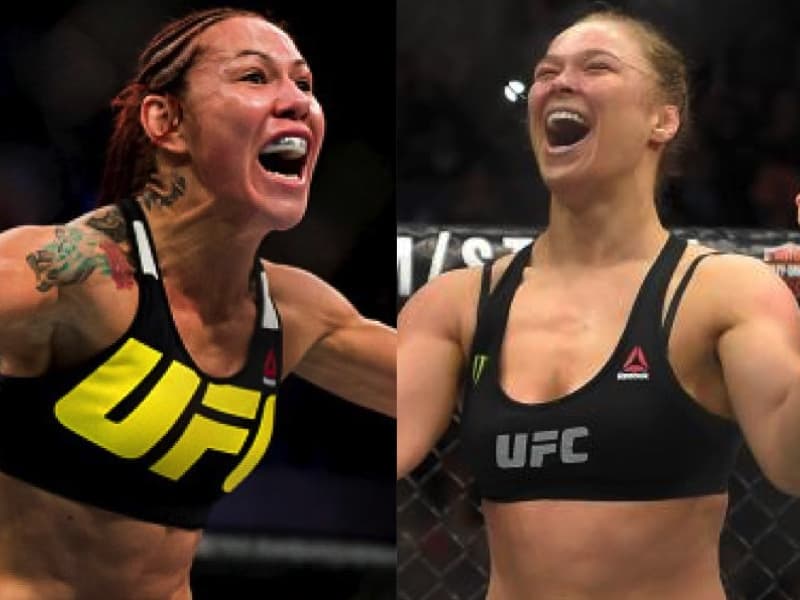 She may essentially be retired from MMA, but Ronda Rousey is still drawing the attention of the sport's top female fighter.
Rousey made a successful WWE pro-wrestling debut at April's WrestleMania 34 and in the days since, she's seemingly opened up about a litany of topics in interviews.
The hottest topic, of course, is her precipitous MMA downfall brought by losses to Holly Holm and Amanda Nunes and how she's chosen to deal with it. The legendary former UFC women's bantamweight champion recently admitted she never learned how to lose, and that she was tired of fighting but felt obligated to carry the division she made famous. But a more controversial statement also came from the "Rowdy" one when she said that 'hearing her speak was a privilege' and one the media had abused.
The words have drawn the ire of prominent women's MMA names like Miesha Tate and even longtime Rousey rival Cris Cyborg, who told EsNews (via MMA Junkie) that considering what she's been through, she hoped Rousey was respectful to people:
"I think I don't need to tell her anything. I think life has taught her a lot of things. I think a lot of things happened through her life and her career. I hope she's learned something from that. Be humble and respect people. I think this is most important."
An ambiguous well-wishing to be sure, yet Cyborg followed it up with a more forceful suggestion that if Rousey was done fighting, she was running away from her issues and therefore nothing had changed:
"I don't know her in person. I think if she's not coming back to fight and she's running away, that's not going to change anything. But I'm not here to judge anybody."
"Rowdy" vs. Cyborg was long considered the top women's fight the UFC could book but after years of back-and-forth fluff involving Rousey forcing Cyborg to cut down to an unattainable 135 pounds allegedly due to her history with performance-enhancing drugs, it fizzled before it ever took off the ground. The fight was never really close to actually happening, and that may be a good thing considering Rousey's problems with elite strikers in her final fights.
Cyborg has moved on to her rightful spot as the dominant UFC women's featherweight champion, and she's also passed Rousey as the greatest women's combatant in MMA history.
Despite that fact, however, we may never hear Cyborg's opinions of Rousey stop, especially if the former champion continues to suggest it's a privilege for the media to hear her speak.