Donald Cerrone is ready for a scrap tomorrow night (Sat., January 28, 2017) in Denver.
Cowboy will be taking on Jorge Masvidal in the co-main event of UFC on FOX 23 in front of a hometown crowd in Colorado. With a win over 'Gamebred', who is currently on a two-fight win streak, Cowboy could potentially jump into the welterweight title picture.
As for Masvidal, this fight is an opportunity to pay his adversary back for taking food off his plate after having robbed him of two opponents last year. Cerrone got the opportunity to respond to Masvidal's comments during a recent appearance on the Fight Society podcast (quotes via FOX Sports), saying he found his opponent's comments laughable:
"I laughed at all of it. It's funny," Cerrone said. "It is what it is. He's going to have to see me in the ring. I really don't know much about the guy to be honest with you. I don't really have an opinion."
Masvidal's last Octagon outing saw him take home a controversial first-round TKO win over Jake Ellenberger after 'The Juggernaut's' toe got caught in the cage. Given that 17 of Masvidal's 31 career wins have come by way of decision, Cerrone isn't really too concerned about his opponent coming out looking for a finish – but he can't say the same about himself:
"We'll see what kind of feedback we get from Jorge on that. He's not really a finisher fighter guy. His last fight he accidentally won and that's really the only fight I've seen of him. He's really a decision fighter guy. He's not really after the kill ever. We'll see what Jorge shows up," Cerrone said.

"He's like split decision guy. It's whatever. I finish mother (expletive). That's how I fight. I've always go out for a finish and I'm looking to finish him, too. Just put him another check on the (expletive) list of people I'm running through."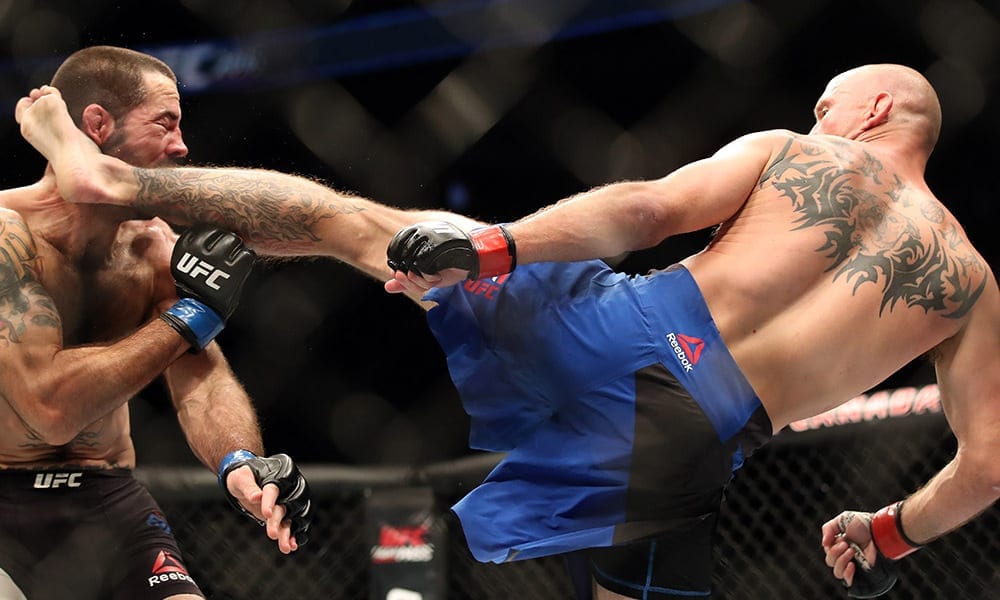 Leading up to tomorrow's contest, Masvidal has been unleashing a slew of trash-talk towards his opponent, claiming he will easily add another notch to his career win column come fight night.
These words seem to have fired Cowboy up even more, who claimed he'll be ready to stand and bang if Masvidal is ready to go to war in the center of the cage:
"(Let's see) if he's really all the (expletive) big bad ass talk that he says he is and comes rip my (expletive) head off. Tell that (expletive) I'll see him January 28," Cerrone said.

"If he wants to (expletive) come hard at me, I'll be ready."
Cowboy has suddenly emerged as one of the welterweight division's finest combatants based on his early success, and while the former lightweight title challenger is looking to yet again try his hand for UFC gold, 'Gamebred' has a tremendous opportunity to burst onto the scene as a premier contender at 170 pounds himself.
Who are you picking to secure a huge win in Denver tomorrow night?