"Cowboy" Cerrone picked up a big win over the weekend (Sat. November 10, 2018) in Denver.
Cerrone submitted Mike Perry in the first round via armbar. It was a very personal fight for "Cowboy," who had some issues with Perry's new trainer, Mike Winkeljohn. When Cerrone locked in the armbar, it looked very painful, especially when he went belly-down on Perry's arm.
The initial belief was that Perry's arm was broken, as "Platinum" said as much in a post-fight Tweet:
Good job @Cowboycerrone you broke my damn arm

— Platinum Mike Perry (@PlatinumPerry) November 11, 2018
However, the 27-year-old recently revealed on his Instagram story that his arm actually isn't broken. He shared a photo of an x-ray of his arm, which was fully intact. Now, Perry will undergo an MRI to determine if there's any ligament, tendon, or muscle damage:
"This is my arm. No bones look broke but mri Thursday will show ligament, tendon and muscle damage"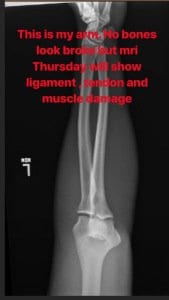 Perry has now lost three of his last four fights inside the Octagon. However, he is still one of the promotion's most entertaining fighters, and will likely once again receive a fun match-up next. As for Cerrone, he has now declared his intentions to drop back down to lightweight.
It looks like he has his eyes on a fight with former UFC featherweight and lightweight champion Conor McGregor.