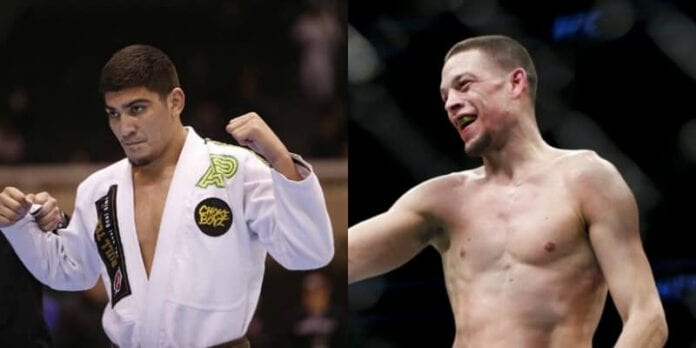 UFC featherweight champion Conor McGregor got his revenge on bitter rival Nate Diaz this past weekend (August 20, 2016) in Las Vegas, scoring a majority decision victory over the Stockton native in the main event of UFC 202. After shockingly being submitted by Diaz last March, McGregor had made it clear that he had made adjustments within his training camp. One of his most notable adjustments was bringing in high level Brazilian jiu-jitsu player Dillon Danis.
After the event on Saturday night, Diaz actually called out Danis for some reason, saying that the grappler was on his 'hit list'. Danis responded on today's (August 22, 2016) edition of The MMA Hour, saying that he'd be open to an MMA fight with Diaz:
"I don't know what that means, I'm on his hit list," Danis said. "But if he wants to do MMA, I'll fight him in MMA if he wants. He can do a CM Punk with me and bring me into the UFC. He can be my first fight. I'll fight him in a couple months, whatever he wants to do."
Danis admitted that he previously had respect for Diaz, but the Stockton Bad Boy has since made it personal. The BJJ black belt once again said that he'd fight Diaz 'tomorrow':
"I had a lot of respect for Nate Diaz," Danis said. "I went to shake his hand after the fight, he wouldn't shake my hand. He was saying things. This is the fight game. After the fight, emotions are high. But c'mon man. I did nothing to him. I don't understand. But now he wants to make it personal. If he wants to fight, that's fine. I don't understand where that came from."
"Any kind of combat he wants to do, I'm ready to step in there with him," Danis said. "Whatever he wants. No problem. MMA? It doesn't matter to me. I'll fight him in MMA tomorrow."

Danis has yet to compete in an MMA fight to date.