The hype is steadily beginning to build for Nate Diaz vs. Conor McGregor 2. After a brief but massively entertaining rivalry before UFC 196, McGregor and Diaz were swiftly scheduled for a rematch at UFC 200 UFC 202. On just 11 days notice, replacing lightweight champ at the time, Rafael dos Anjos, Diaz was able to end McGregor's impressive six-year streak with conviction. Wobbled and lot on the mat, 'The Notorious' tapped to a tight rear naked choke to conceive his first loss under the UFC banner.
With the 145-pound title now at the interim stage with Jose Aldo defeating Frankie Edgar at UFC 200, there have been a lot of questions about McGregor's will to cut back down. He fought on March 5 as a welterweight and will do so again on August 20, but take weight out of the equation for a second. If the Irish striker can defeat his Stockton rival at UFC 202, what's to stop a trilogy fight being booked just as quickly as the rematch?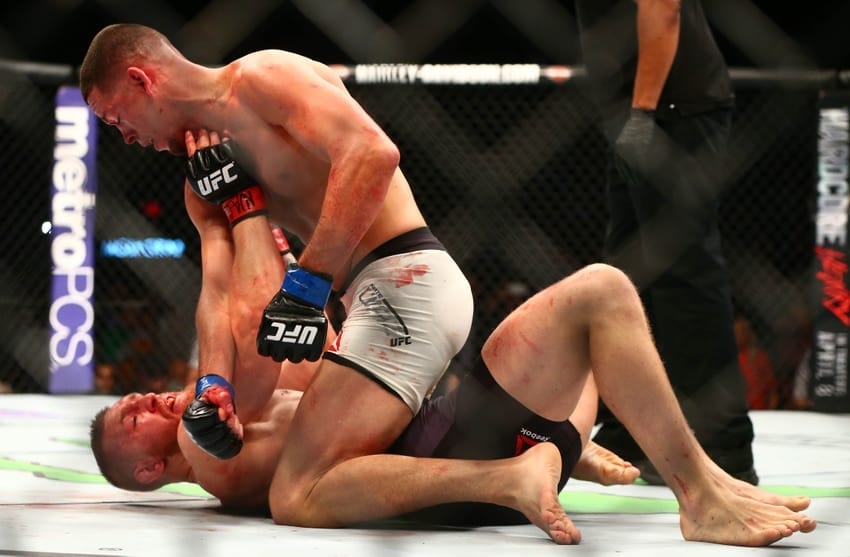 With such a colourful rivalry, Diaz and McGregor make for great viewing. Take yesterday (July 26, 2016) with Nate Diaz appearing on the Conan O'Brien show. A recorded message by 'The Notorious' was played for Diaz during the now ultra-popular Diaz's segment. The resulting troll reminded us of just how fun their rivalry can be, also leading to musings about a rubber match if the Irishman can get the win back:
We'll have to wait another tree weeks before we see exactly how the rematch plays out, but you can bet your bottom dollar the rivalry will get far more fierce as we approach August 20. Will the featherweight champion score welterweight revenge, or will it be the Stockton bad boy who remains 'not surprised?'
Stay tuned to LowKickMMA!