Sitting atop two divisions after UFC 205 is Conor McGregor, the man everyone is talking about. Heading in to the UFC's historic first event in New York, questions about stripping McGregor's featherweight title were being raised. Frustrated fans and contenders from both 145 and 155 pounds questioned the reasons behind the Irishman's lightweight title shot. Providing his own record-breaking moment in the main event, McGregor crumbled Eddie Alvarez and took the belt.
The incredible win for 'The Notorious' opened doors to fights not only at feather and lightweight, but also with Tyron Woodley at welterweight. Again the point has been raised about stripping McGregor, but the Irish striker insists he'll defend both belts. Also competing and winning in dominant fashion on the New York pay-per-view was Khabib Nurmagomedov. The undefeated lightweight prospect steamrolled Michael Johnson, making a clear statement about his placement in the title race.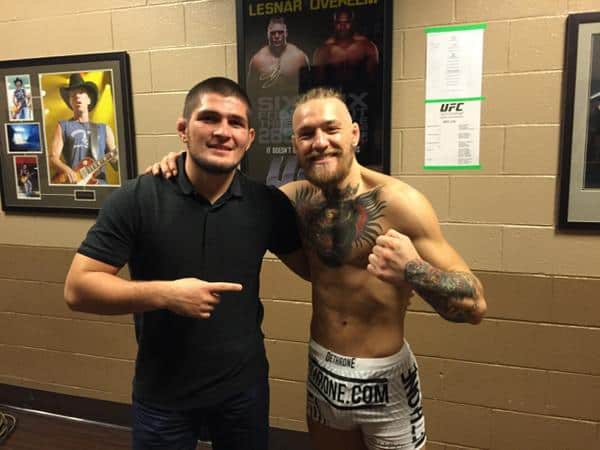 Not Friends Anymore
Although they had been pictured together in this friendly snapshot at UFC 178, there's now an obvious beef between 'The Eagle' and McGregor. During a video released before UFC 205, McGregor and Nurmagomedov could be seen getting heated before the weigh-ins. The dominant lightweight grappler had also voiced his displeasure with 'The Notorious' facing Eddie Alvarez at UFC 205, and his post-fight speech was a clear challenge to the newly minted two-weight boss:
"I want to stay humble,' Nurmagomedov said. 'But I have to talk because the other guys talk too much. I understand the crazy power the UFC PR machine has. (McGregor), at the beginning of the year he tapped like a chicken but at the end of the year he is fighting for the title. Crazy. I want to fight your chicken. Let's go. Let's go with your chicken."
McGregor, never one to stay quiet, responded during his bespoke UFC 205 post-fight presser:
McGregor's Response
Talking after his emphatic win this weekend, Conor McGregor says he's unsure of fighting someone like Khabib Nurmagomedov. Pointing out his recent history of pulling out of fights, 'The Notorious' says he wants an opponent who will 'show up.' As per MMAFighting.com:
"He's fought once in eight years," McGregor said. "He ain't fight too frequent for my liking. For me to commit to something like that, I need to see solid proof that people are gonna show up and he's a consistent pull-out merchant. He had a good performance tonight. Fair play to him. I need to see active, to see activity. I need to see consistency."

If you want me to come and change your life, you want me to come pick you, you better have some damn reasons for me to do that. I feel good at all of them," McGregor said. "I'm dominating them. I own the featherweight division. I'm dominating the 155 now. At 170? I have no problem going to 170. I'm sizing them up all week saying, 'They're not on my level, either.'"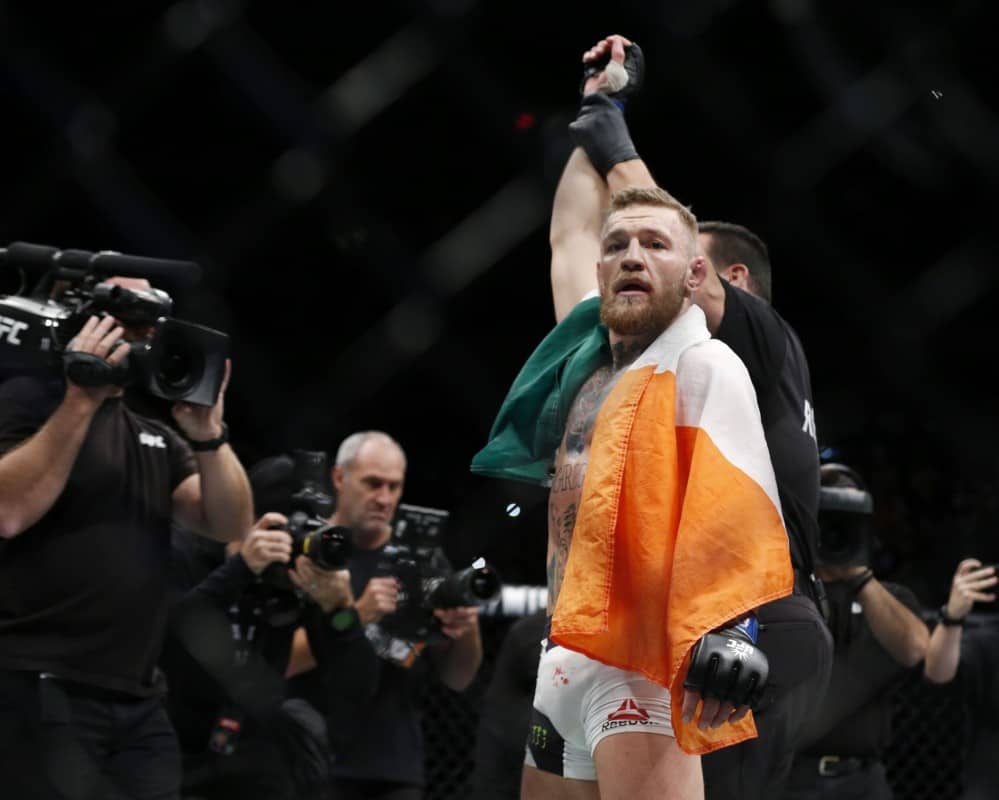 Other Options
Facing Conor McGregor now are a number of interesting options. After Tony Ferguson defeated Rafael dos Anjos, 'El Cucuy' propelled himself to the top of the rankings at lightweight. Including 'The Eagle,' that's two viable contenders at 155 pounds. Looking at featherweight, an obvious unification match with Jose Aldo beckons, or of course the beef with Woodley at 170, which the welterweight champ has said he's happy to act on. Now that it looks like McGregor isn't retiring, who should he fight next?