The Irish MMA superstar Conor McGregor has commented on Jake Paul signing with the PFL.
Jake Paul began as a YouTuber and became a blockbuster-selling boxer. 'The Problem Child' has made tens of millions of dollars in the boxing ring. It was announced just yesterday that he would be transitioning to MMA as he recently signed with the PFL.
In the announcement video, Jake Paul explained that the PFL will be launching a new pay-per-view series in which the fighters will take home 50% of the revenue. Also, he called out Nate Diaz for two fights, one in boxing and one in MMA.
In a now-deleted Tweet, the former two-division UFC champion Conor McGregor commented on the situation:
"Numbnuts gave away 50% of a future purse if he does an MMA bout? Wow. What an idiot. Joint partnership ? For what you Wally. Wally."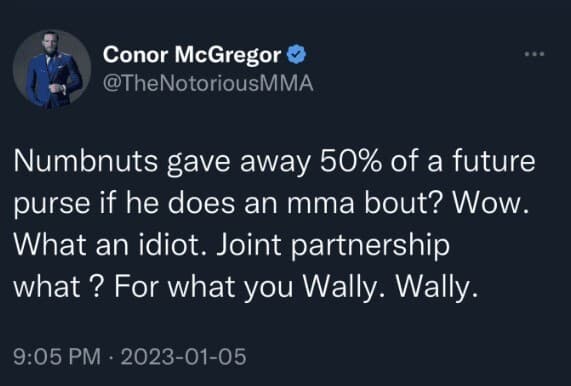 'Wally' is a slang term that refers to someone as stupid or foolish.
Jake Paul wants Nate Diaz
Long-time UFC staple Nate Diaz walked away from the organization in 2022. Diaz is now a free agent as he is unsigned by any promotion. The boxing superstar Jake Paul wants two matches against the Stockton-born athlete. First, a boxing match followed by an MMA fight in the PFL.
'The Problem Child' sports a perfect 6-0 record in boxing with wins over fighters such as Anderson Silva, Tyron Woodley, Ben Askren, and others. Nate Diaz is a veteran MMA fighter having made his professional debut in 2004. Along the way, Diaz has faced notable athletes in the UFC such as Conor McGregor, Tony Ferguson, Leon Edwards, Anthony Pettis, Gray Maynard, Benson Henderson, Donald Cerrone, Takanori Gomi, and many others.
Regarding a potential two-bout agreement against Jake Paul, Nate Diaz has yet to comment.