Everyone already knew Conor McGregor is the highest-paid star in the UFC, but the figures he's claimed to earn this year -and his own valuation of his worth to his employers – are truly staggering numbers.
'The Notorious' set the MMA world on fire earlier this week at the UFC 205 press conference form The Theater at Madison Square Garden in New York, and not surprisingly, his record-setting paydays were at the center of his beloved trash talk.
With a potentially record-breaking lightweight championship bout against Eddie Alvarez scheduled for the main event of the UFC's New York debut on November 12, McGregor plans to add another monstrous payday to the two already-huge hauls he gained for his electric rivalry with Nate Diaz, and at the presser, he revealed it would all add up to a massive payday never before heard of in MMA (via FOX Sports):
"By the time 2016 closes out, I'll be closing in on $40 million. This is a $40 million dollar year for me. It's been a damn good year."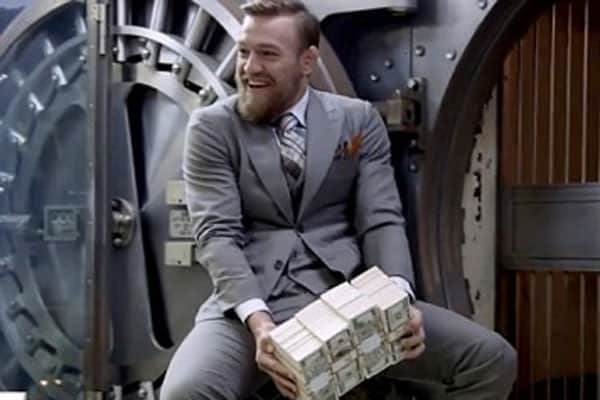 As reported by FOX Sports, McGregor made the Forbes list of highest-paid athletes last year with $22 million, a sum he'll easily pass in 2016. It's a good year to be McGregor, who seems to have taken MMA to a new level on his own shoulders, whether you like him or not.
The same could certainly be said for the UFC as a whole, as the company was recently sold to talent group WME-IMG for a record-setting $4.2 billion, the largest sale in sports history. Much of that number can be attributed to McGregor's still-skyrocketing success rate, which brought him two of the top three pay-per-view numbers in UFC history in 2016, and it's hardly a surprise that 'The Notorious' knows it.
When asked what he believed his valuation to the company was, he responded with quite the exact number:
"$4.2 billion dollars," McGregor said. "That's what I'm worth to this company."
A brash proclamation to be sure, but that's what McGregor has long been known for by now. It's also hard to argue wth his price tag, because as arguably the biggest star in MMA history, his value is limitless – evident by his calling the shots in keeping his never-defended featherweight title bout to hold up the division while fighting at welterweight and for the lightweight title.
Who can argue with him? Certainly not his bosses, who are enjoying the spoils of his record-setting numbers. McGregor's making quite the sum himself, but according to him, he's simply the "$4.2 billion-dollar man."