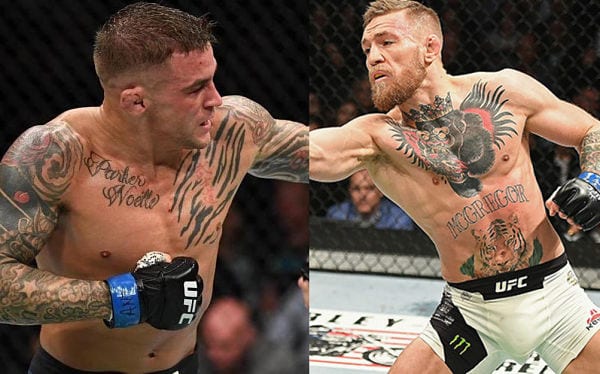 Conor McGregor and Dustin Poirier are back to trading shots at each other on Twitter.
On Wednesday, McGregor mocked the upcoming UFC 244 headliner between Nate Diaz and Jorge Masvidal. He notably labeled it as an interim BMF title fight.
Poirier would respond soon after with a jab at McGregor and the last time he had won in the Octagon — his lightweight title win over Eddie Alvarez at UFC 205 back in November 2016.
"3 years 10 days since you won your last fight," Poirier tweeted. "Do the math champ"
McGregor would hit back by telling Poirier to count his bank digits:
"Awesome bro," McGregor responded. "Now count my bank digits."
The pair notably fought in a featherweight contest in 2014 with McGregor getting the knockout victory on that occasion. Calls for a rematch at lightweight have increased, especially after Poirier brought up the idea following his loss to Khabib Nurmagomedov at UFC 242 last month.
As of now, there is no update on when McGregor will come back or who he will face. However, Poirier is certainly a viable option for the Irishman. Other options include Justin Gaethje and Frankie Edgar to name a few.

Do you want to see the rematch? Who do you think wins?