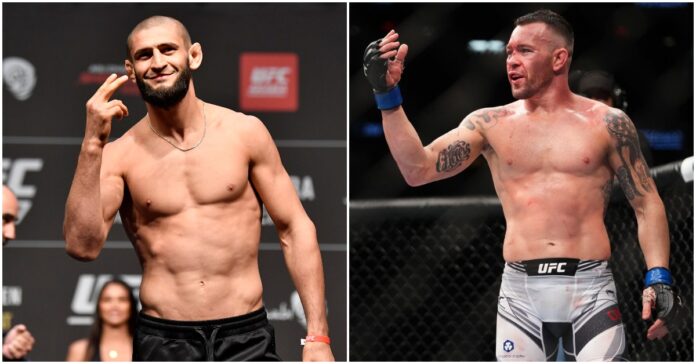 Colby Covington is open to taking a fight against Khamzat Chimaev.
'Chaos' is fresh off a unanimous decision defeat to Kamaru Usman at UFC 268 but he is already plotting his way back to a title shot and is willing to fight whoever the matchmakers put in front of him.
During a recent interview with MMA Fighting, Covington labeled the undefeated prospect a "joke" who is being rushed through the ranks. Nonetheless, the former interim welterweight champion is open to facing Chimaev if that's what the UFC wants.
"He's a joke. He needs to beat someone worthy — someone in the top 5, someone in the top of the rankings, not just fight hand-picked people." Covington said of Chimaev. "What does he have, four UFC fights? The media loves to rush these kids and these hype jobs. This is fighting, man. People can get seriously hurt from rushing people like that.
"But if you guys want to rush a guy, take some time off of his life and send him for a hospital treatment, then, yeah, the door is open for that. I love doing good business and I love doing business with the UFC. It would be an honor to beat who they want me to beat, and if that's the name they put in front of me, I can promise you that I'm gonna train extremely hard and I'm gonna show a new skill set the world hasn't seen yet.
"You kind of see that from me every fight, I get better every fight. I add new layers to my game, so whoever they try and match me up with next, you're gonna see those new layers and someone is gonna get seriously hurt."
Colby Covington Takes Aim At 'Participation Trophy Winner' Khamzat Chimaev
"I think what we've learned with, not only in sports, not only in the UFC, but with this world and the way it's changed these days, this is the handout generation," Covington said. "And it's the participation trophy generation. This guy is nothing more than a participation trophy winner, a handout winner, and if that's what they want to do, that's what it is.
"I don't really look into what other people are doing, or what they're being awarded. I know my path. I know my journey. I know what it took to get here. I took the long road. I didn't cut any corners, I didn't cheat. I've never cheated in the octagon or outside of the octagon, and I took the hard road to get here. I feel like that's the true American way. Nothing is given to us here and adversity is filled every single day. We have to overcome these obstacles if we want to make it to the path of success.
"I only stay in my lane and focus on my lane, not anyone else's lane, just my lane. Big f*cking deal, he got a handout and a participation trophy. But in the long run no one will remember that. They're just gonna remember what would happen inside that octagon."
Do you want to see Colby Covington vs. Khamzat Chimaev?