Last night's (Sat. November 4, 2017) UFC 217 pay-per-view (PPV) provided some of the most shocking results of the year, like when mixed martial arts (MMA) fans were absolutely stunned when TJ Dillashaw knocked out hated rival Cody Garbrandt to recapture the 135-pound crown.
Garbrandt came into the bout undefeated in his MMA career after having won 11 straight fights. His most recent appearance inside the cage saw him down bantamweight legend Dominick Cruz via lopsided unanimous decision to capture the 135-pound title at 2016's UFC 207. He then made preparations to defend his title for the first time against his ex-teammate-turned-rival TJ Dillashaw.
Dillashaw was on a two-fight win streak since dropping the bantamweight title back in January of last year when he was defeated by Cruz. After racking up wins over Raphael Assuncao and John Lineker, Dillashaw earned the right to challenge Garbrandt in his first title defense.
When the pair finally met, it was a fairly even exchange inside the Octagon as "No Love' dropped Dillashaw with a big shot late in the first round. In the second round, Dillashaw knockedGarbrandt dow with a nice high kick and eventually landed a huge shot that folded Garbrandt over, pouring on the ground and pound to finish the fight.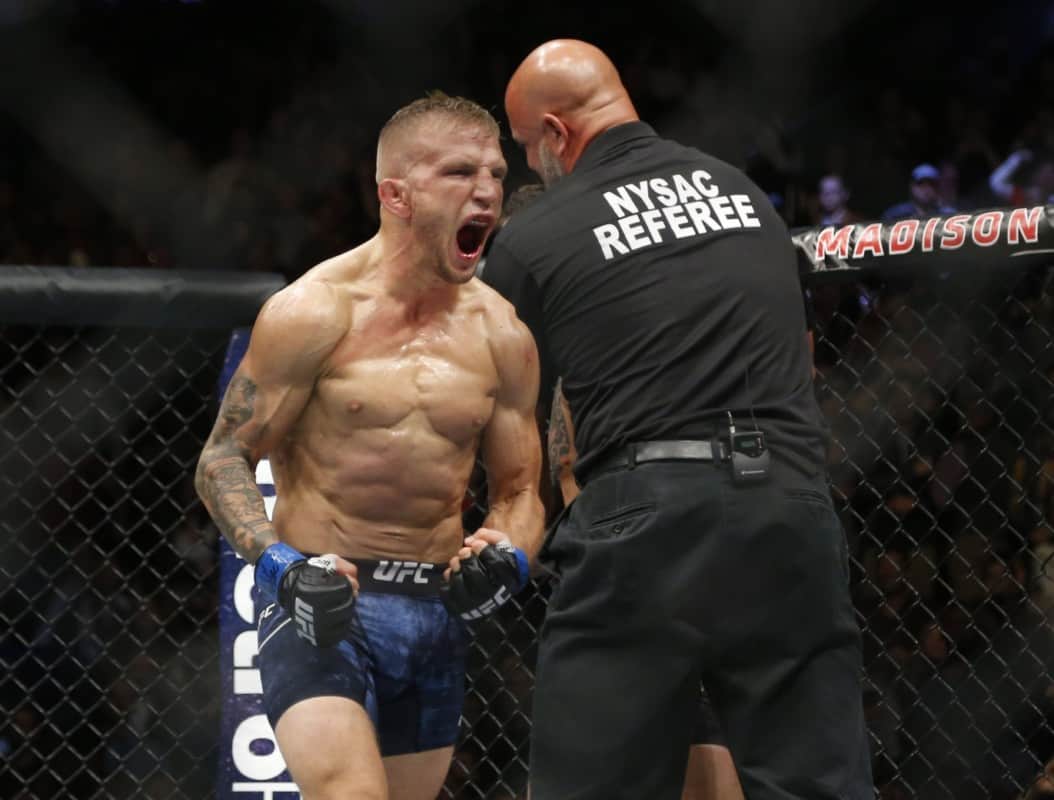 There had been a ton of bad blood between the pair leading up to the bout due to their history as Team Alpha Male teammates and then opposing coaches on The Ultimate Fighter (TUF) 25. After the fight, it seemed Garbrandt and Dillashaw had buried the hatchet by embracing; however, Garbrandt told a different story at the post-fight press conference.
When "No Love" got his opportunity to speak, he did admit that he respects Dillashaw, but only as a fighter and not a person:
"Training with TJ I've always known that he's a competitor," Garbrandt said. "I know that he has great skill, I've always respected his skills leading up to the fight – I don't respect him as a person but as a fighter I give him respect in there. But after – win, lose or draw, I'm always going to give my adversary respect.

"And he caught me with a big shot, capitalized on a technical error I did. I felt good the first round, like I said I'm the better fighter in there, and I'd like to run it back. But that's up to the UFC. I know the fans would love to see that, I truly believe I'm the best in the world, and I can't wait to go out and show that."
"No Love" is willing to do whatever it takes to get back to the title, even if it means earning his way back by picking up some wins over fellow top contenders:
"I truly am the better fighter," Garbrandt said. "I'll show that in the rematch, but whatever they want to do. If I have to wipe out the whole f*cking division – I will. There's a lot of people calling me out when I'm the champion, just because I have a little setback – I'm still here, I'm still hungry. This is a learning experience. I've learned so much more in my life from the losses than the wins. I've been here before.