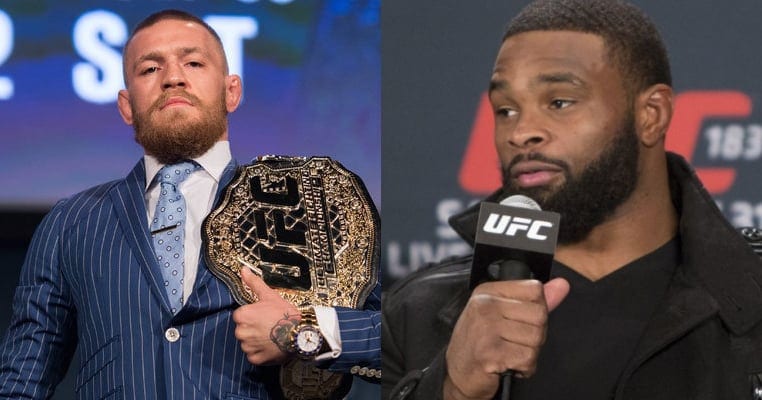 Conor McGregor's fighting future is currently a cloudy mess.
After adding the UFC lightweight title to his collection that already includes the UFC featherweight title at Nov. 12's UFC 205, McGregor made it clear that he had a plethora of options waiting for him, although it was also said that he likely wouldn't fight until the spring due to the fact that he has a baby on the way.
On option that the brash Irishman discussed was the possibility of jumping up to welterweight and fighting 170-pound champion Tyron Woodley in hopes of winning a third title in a third different wait class.
Many have laughed McGregor's talk of this possibility off, but his longtime coach John Kavanagh doesn't agree with what the masses are saying:
"I don't see why not," Kavanagh said on The MMA Hour. "I don't know. Maybe it won't happen. We've got so many irons in the fire at this stage. But I don't see what other people are saying, 'There's no way Conor can touch this guy.' There is. No one is perfect. There's openings there. Of course, he's a bigger man, he's got more power and you've gotta be super careful. But Conor trains with big guys like this. I see him do amazing things in the gym all the time."
The two fighters appeared to have some tension between them during the lead-up to UFC 205 where Woodley also fought. In fact, "The Chosen One" said after the event that he would sign on to face the "Notorious" one.
Woodley would undoubtedly be the bigger man if the the bout were to actually materialize, but Kavanagh feels as if McGregor beating the 170-pound champion is very 'doable':

"He's not enormous," the coach said. "He's not some Goliath man. He's a little bit bigger. Conor would have reach on him, he would have technique on him in the striking, for sure. He'd have to of course deal with that power. … I certainly don't in my head go, 'Oh my God, no. We couldn't possibly beat him.' It's a doable fight."
Do you share Kavanagh's view?