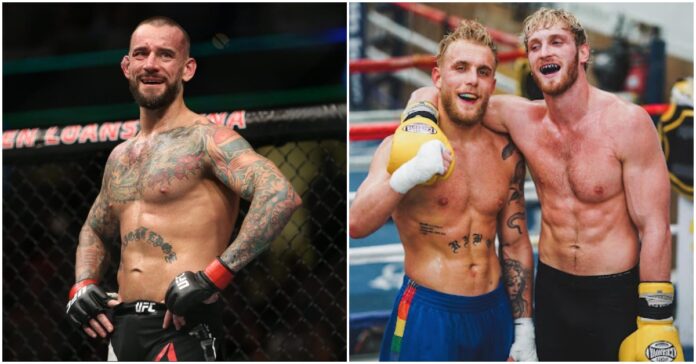 CM Punk seems to support the Paul Brothers stepping into the world of combat sports.
The YouTube sensations have crossed over into boxing over the last few years and have enjoyed great financial success during their short time in the sport.
Logan Paul took part in a mega-money exhibition boxing match against Floyd Mayweather earlier this year. The 26-year-old managed to go eight full rounds with arguably the best boxer of all time but didn't seem to have any real ability.
Jake Paul has taken a different path. 'The Problem Child' is 5-0 as a professional boxer but is yet to face an actual boxer. Paul has picked up wins over a fellow internet celebrity, a basketball player, and two past their prime MMA fighters.
CM Punk Says If It Makes Money, You're Doing Nothing Wrong
The two brothers' have not exactly been welcomed into the boxing fraternity and many fans have called them out for tarnishing the sport with their cash grab fights.
CM Punk was once in a similar position to Logan and Jake, having twice tried his luck in the UFC. Phil Brooks made his name in the WWE but wanted to actually compete in a real fight. Punk was dominated by Mickey Gall and Mike Jackson before calling it quits and heading back to his old gig.
The AEW star seems to be a fan of what the Paul Brothers are doing.
"I think everything's entertainment. I think some people conflate being a fighter with being an entertainer, but when it makes dollars, it makes sense," CM Punk recently told ESPN. "And what the Paul brothers are doing, I think for the lack of a better term, it's old school pro wrestling, right?
"This is stuff — you could say they're crossing over, but there's so many similarities between the two businesses. They command attention. People want to see them get knocked out, they know this, but they're putting themselves out there. They're putting themselves on the line. I'll never criticize in a negative way or fashion anybody who makes the walk, anybody who trains their ass off. Because I did it and I know what it takes. And you put yourself out there, you put yourself on the line.
"A lot of the times — a lot of the sacrifice goes unnoticed. But it's what it is. When [Floyd] Mayweather crossed over and did a match at WrestleMania, I'm sure we're eventually going to see [Conor] McGregor come over… [Ronda] Rousey was excellent when she came over. The bottom line is making money. If you're making money, you're technically not really doing anything wrong." (Transcribed by Cageside Seats)
Do you agree with CM Punk on the Paul Brothers?