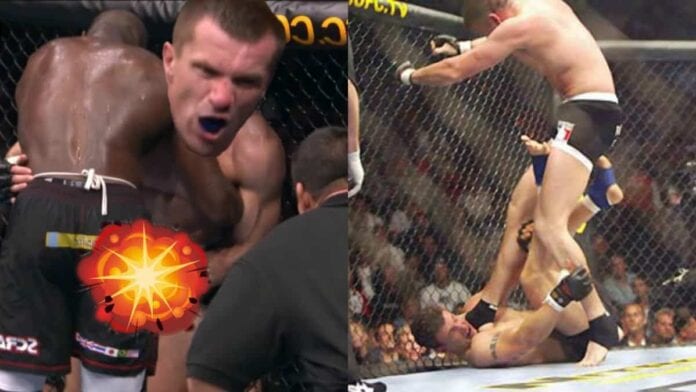 Mixed martial arts is a sport defined by precision, discipline and beautiful artistry. From striking to grappling, the sport offers an abundance of high-level maneuvering.
Yet despite these awe-inspiring intricacies, MMA is also home to the unlawful. It is subject to some of the most heinous acts of illegal wrongdoing that the combat world has ever seen.
Whether it's low blows, after-the-bell attacks, illegal kicks, vicious and purposeful elbows or a good old fashioned stomping, the cage has played host to countless cheap shots. Some more crazier than others, but all of which are calls for distress.
Based on enduced damage and sheer aggression, here are the top 10 worst fouls in MMA history.
10) Even the G.O.A.T is susceptible
Nobody is safe when dealing with bending the rules.
In Anderson Silva's case, he felt it necessary to purposely grab rival Chael Sonnen's shorts during their rematch at UFC 148. Not only was it blatant, but it lead to a few offensive attacks for the Brazilian.
Silva has not been the most gracious fighter inside of the cage and this further proves that even the G.O.A.T is susceptible to the dark side.
9) Mike "Tyson" Kyle
As if he was taking a page out of Mike Tyson's rule book, veteran Mike Kyle was nearly caught red handed biting Wes Sims at UFC 47.
After Kyle secured a first-round knockout, a befuddled Sims protested that the victor had taken a liking to his chest. Video evidence would prove that Sims had significant teeth marks on his body.
Nothing has ever been officially made of this, but it's the only instance of biting in MMA that we have to date.
8) Up, up and away
Mixed martial arts legend Anderson Silva makes his way onto this list for a second time.
Instead of grabbing shorts, "The Spider" landed one of the most perfectly thrown upkicks of all time on Yushi Okami at Rumble on the Rock 8. The snap that he had in his foot is remarkable.
However, this technique is quite illegal. The fact that Silva had to be held back by the referee after landing the foul added insult to obvious injury.
7) Canadian bacon
There's really no other way to explain what Alessio Sakara did to the back of Patrick Cote's head at UFC 154 other than comparing it to a hammer pulverizing bacon.
While that may sound tasty to some, it did little to put a smile on Cote's face in front of his Canadian home crowd.
Sakara's efforts would eventually cost him the fight, and it remains one of the most vicious back-of-the-head attacks the Octagon has ever seen.
6) Gougecity
No other fighter in the history of MMA has experienced the eye-popping hell fire that Anthony "Rumble" Johnson has.
Michael "The Count" Bisping has certainly had his fair share of ocular injuries, but Johnson has been poked in the eyes more times than the Three Stooges.
Take a gander at how many times Johnson has absorbed a finger because his opponents are too scared to strike with him.
5) Bones hurt
Unfortunately, this illegal 12-6 elbow party that Jon Jones threw at Matt Hamill's head is the only blemish on the former UFC light heavyweight champion's record.
While it's difficult to gauge exactly at what angle your strikes are landing, there's really no way that Jones didn't know he was doing something wrong here.
And even though Hamill couldn't continue because of a shoulder injury he experienced during the initial takedown, Jones was given his only loss of his legendary career.
4) Mike "Pele" Kyle
Mike Kyle isn't just an aspiring boxer, he also enjoys playing some English football.
Against Brian Olsen at WEC 20, Kyle proceeded to boot his opponent's head with a vicious soccer kick in the first round. Afterwards, he refused to get off of an obviously impaired Olsen.
Kyle was later disqualified for striking after the bell and forfeited his right to hoist heavyweight gold.

3) Stone Cold Wes Sims
Few illegal attacks have seemed so deliberate as Wes Sims' stomping of Frank Mir back at UFC 43.
Sims had Mir hurt against the cage, but decided to abandon everything he had ever learned about fighting, stand up, hold onto the Octagon and drive his foot into Mir like he was a stuffed pillow.
While the disturbing act resembled Stone Cold Steve Austin's patented turnbuckle beatdown, Sims never made a career out of professional wrestling.
2) Beyond the bell
In arguably the most infamous late hit of all time, Paul "Semtex" Daley took his frustrations out on Josh Koscheck at UFC 113 by landing some extra damage.
Whether Daley took offense to things "Kos" was saying during the fight or the fact that the Englishman was decisively beaten for three rounds, nothing warranted a cheap shot like this.
Daley would consequently be released from the UFC. His world-class potential went with him.
1) French destruction
To be honest, I had no idea Cheick Kongo has produced such cringing affairs inside of the cage before I did a little digging.
But after gathering the evidence and rewatching it multiple times, it's safe to say that the Frenchman may be the dirtiest fighter in the game today.
Whether it's illegal knees or shady low blows, nothing seems to be off limits for the hulking heavyweight. The proof is in the pudding, and the pudding will hurt you.