Bellator: NYC took place last night live on pay-per-view (PPV) from Madison Square Garden in New York City, and the main event featured a grudge match years in the making, as bitter rivals Chael Sonnen and Wanderlei Silva finally did battle.
Sonnen dominated Silva over the course of three rounds to score a unanimous decision victory before calling out all-time heavyweight great Fedor Emelianenko, who was knocked out by Matt Mitrione in the co-main event.
Speaking to MMAFighting.com's Ariel Helwani after the event, Sonnen explained the callout:
"Don't miss interpret that," Sonnen said. "I'm on a legends ass whipping tour, and there's only so many of them around here, and Fedor is the next one around here, and I believe that fight was being looked at. So, if we're going to do this fight anyway, let's just make it my idea. And I was never kicking a guy when he was down, don't forget he was the curtain jerker and I was the main event. I'm going to be the main event next time too, and I was pulling Fedor up."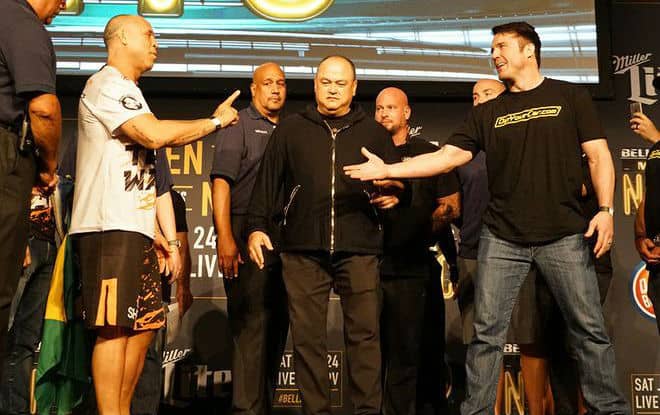 The first stop on Sonnen's self-proclaimed 'legends ass whipping tour' came in the form of a bout against former UFC light heavyweight champion Tito Ortiz at Bellator 170 last January. After a heated build-up, Sonnen lost the bout via submission, which didn't sit well with him.
Ortiz happened to be at the event last night as well, and it appears as if the bad blood between him and Sonnen hasn't gone away, as "The Huntington Beach Bad Boy" elected to scream at Sonnen, while "The American Gangster" was in the cage:
"Oh, it was terribly rude," Sonnen said of Ortiz's actions. "I looked over to Tito, made eye contact with him, he was right there at the cage. I thought he was going to give me a thumbs up, we've got a history together, I've known him since college, we've competed a couple of times. And he gives me the bird, he's flipping me off, and then he's yelling."
As far as what's next for Sonnen, perhaps a bout between him and Emelianenko could be in the works for Bellator, or perhaps a rematch between him and Ortiz would make sense, although Ortiz has said that he's remaining in retirement.
Both of those options appear to make a bit of sense, but "The American Gangster" has other plans as well:
"Rory MacDonald and I are going to cross paths eventually. I know, weird to call out a guy who's 170-pounds, but there's a story behind it. Rory knows what happened, we have to fight.", Sonnen concluded. 
MacDonald then responded and expressed interest in the bout:
@ChaelSonnen im ready to solve this whenever you are ????????

— Rory MacDonald (@rory_macdonald) June 25, 2017
MacDonald made his Bellator debut earlier this year, submitting Paul Daley in London. The "Red King" is now expected to take on Douglas Lima for the Bellator welterweight title, but would you like to see him take on Sonnen instead?