Five days after his thoroughly impressive first round TKO stoppage of Ricardo Lamas at last Saturday's (April4, 2015) UFC Fight Night 63 from Fairfax, Virginia, top-ranked UFC featherweight Chad "Money" Mendes is on the lookout for just what his namesake entails.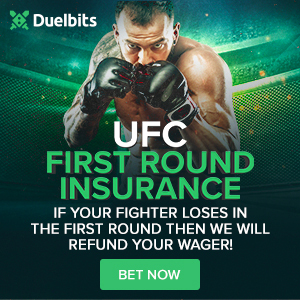 Apparently Mendes – who has torn a path through the 145-pound ranks and only lost to dominant champion Jose Aldo – wants to renegotiate his UFC contract with his employers soon. Revealing that Mendes' current deal expires this August, Ariel Helwani described the situation on last night's UFC Tonight:
"His manager, Mike Roberts, tells me that he wants to fight the winner of Conor McGregor – Jose Aldo. That's not huge news; what is news, however, is that he only has one fight left on his current contract. It expires in August, and they want to renegotiate.
"Mike Roberts tells me he wants to go to Las Vegas next week or so to sit down with UFC brass, to get him a new contract before he fights potentially for the belt again or in another big fight in the 145-pound division. So that's what really next for Chad Mendes; he wants to renegotiate that deal that expires in around four months time."
It's hardly a surprise that Mendes is looking to increase his scope and make more money. Many have him on the short list of the best fighters who are currently without a belt, and even though he has two previous losses to Aldo, he's undoubtedly an elite challenger who can become a marketable star in the near future.
He may have to continue winning high-profile bouts to get a third title shot, but "Money" should be earning a higher pay grade quite soon.
As for his Team Alpha Male teammate and UFC bantamweight champion TJ Dillashaw, who was unfortunately forced out of April 25's UFC 186 main event against Renan Barao with an injured rib, Helwani said that "The Viper" is targeting a return to the Octagon this July:
"Also, speaking of Team Alpha Male, Mike Roberts also telling me that TJ Dillashaw, who is still very upset that he could not fight at UFC 186, he is hoping to return around mid-July. He's still a little down but he's starting to focus on the future, and he wants to return in around mid-late summertime."
With Mendes surging and aiming for a new deal while Dillashaw claws to get back in the cage to prove his shocking UFC 173 upset over Barao was no fluke; it's going to be a busy summer for Team Alpha Male.
And it could result in two of them fighting each other if team founder Urijah Faber somehow beats Frankie Edgar on May 16 from the Philippines.
Photo Credit: Jason Silva-USA TODAY Sports