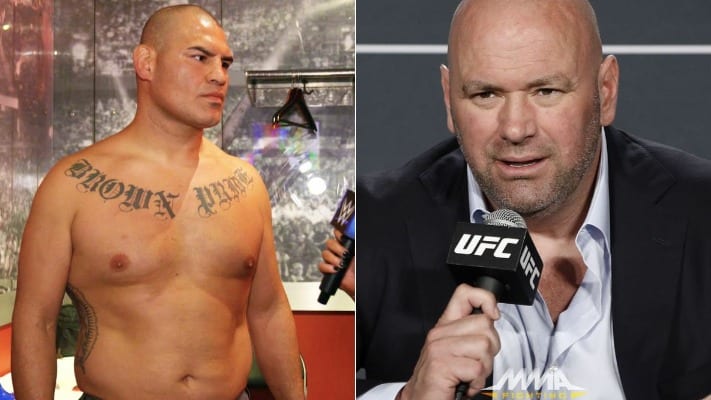 Cain Velasquez's days as a mixed martial artist are done for now. The former UFC heavyweight champion has announced his retirement from the sport after signing a lucrative multi-year contract with professional wrestling juggernaut, WWE.
Velasquez is set to face former Octagon foe Brock Lesnar in his debut match with the promotion later this month in Saudi Arabia. The match was made official during a press conference held by WWE this week. After the presser, Velasquez spoke to the media about his decision to sign with the Vince McMahon-led promotion.
During the media scrum, Velasquez revealed UFC president Dana White's reaction to his decision to jump to WWE, who the Mexican star says was very supportive of him. (H/T MMA Junkie)
"We ended up talking on the phone," Velasquez said. "He just supported me 100 percent. It was just a good, respectful talk that we had. He thanked me for everything that I did. I thanked him and the company for everything that they did. He just gave me his full blessing. He said, 'This is awesome, what you're doing. Go ahead, you have my full consent to go ahead and do what you want to do.'"
One of Velasquez's training partners and best friends, former UFC heavyweight and light heavyweight champion Daniel Cormier, is a hardcore professional wrestling fan. "DC" has expressed interest in a possible run with WWE down the line as well. Velasquez said he wouldn't be surprised to see himself and his American Kickboxing Academy (AKA) teammate team up inside the squared circle in the future.
"We've talked here and there," Velasquez said. "He loves what I'm doing. … But, yeah, we've been keeping in touch. It's just kind of crazy this road that I've gone into. It's been such a short amount of time, but I've had a goal in mind of what I want to do in this sport… 'DC' loves it. He's a big fan. That wouldn't surprise me (to see us tag team)."
In regards to his future inside the Octagon, Velasquez remained adamant about that chapter of his life being closed.
"As of right now, the chapter is closed on my MMA career," Velasquez. "I'm focusing on the task at hand with the WWE. I love this sport. I've rebirthed myself into reliving it and loving it again. I'm all in on doing this. I'm diving deep into doing this, and this is what I'm doing for right now."
What do you think about Velasquez's conversation with White after signing with WWE?