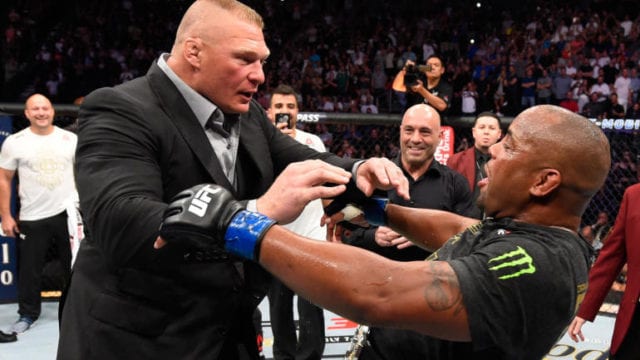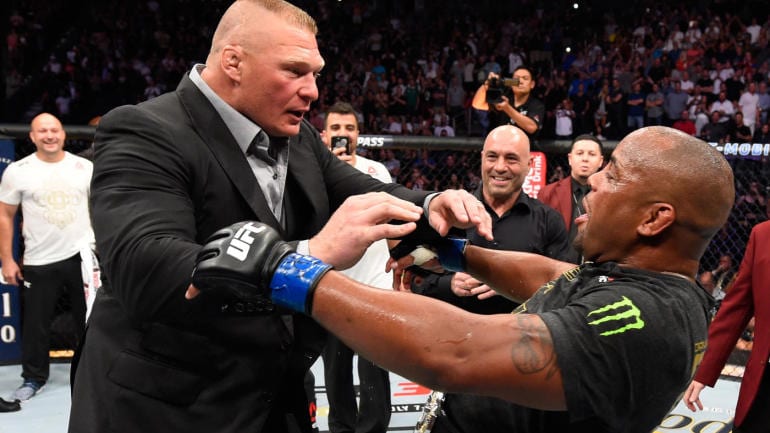 Fighters aren't happy with Brock Lesnar right now.
This summer it was announced that "The Beast" will challenge Daniel Cormier for the UFC heavyweight title next year. Before that can happen, however, he'll need to deliver six months of clean United States Anti-Doping Agency (USADA) drug tests.
In his last bout against Mark Hunt a few years ago at UFC 200, Lesnar tested positive for a banned substance. He subsequently retired from mixed martial arts (MMA) competition, freezing his suspension.
Once Lesnar's suspension is served, he will be eligible to fight Cormier. One man who has felt disrespected by this decision is Curtis Blaydes. The No. 3-ranked heavyweight told Submission Radio he feels disrespected by the UFC allowing Lesnar to jump him in line:
"I still feel disrespected that Brock Lesnar gets to jump in out of the blue. He's not even ranked. He's not even officially on the roster and he gets to have a title fight scheduled and he hasn't proven himself. So yeah, that's what makes me feel disrespected."
Blaydes confirmed he has yet to speak to the UFC on the matter. He realizes that the promotion is interested in money fights at the moment, and Lesnar vs. Cormier is exactly that:
"No. But I mean, it's obvious. We're all adults. They want money. I get it. They want money. I'm not money yet, so it is what it is."
When asked to give his thoughts on the match-up, Blaydes said he isn't giving Lesnar any chance at defeating "DC":
"No. None whatsoever. I don't even view Brock as a legitimate MMA fighter. He was juiced to the gills when he fought in the early to mid-2000's. So I don't respect juice heads."
If you enjoyed this story, please share it on social media!