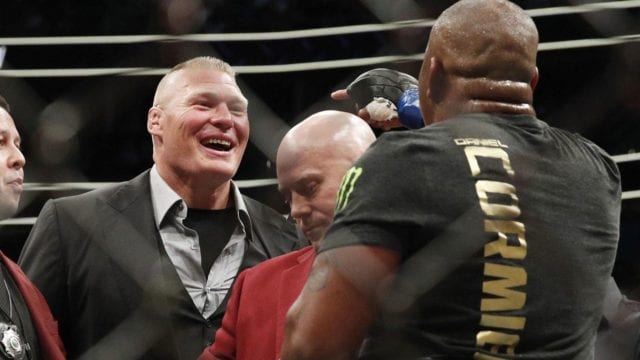 USADA has confirmed the status of Brock Lesnar in their drug-testing pool.
The former UFC heavyweight champion and current WWE universal champion was invited by Daniel Cormier into the cage after he was able to score a KO win over Stipe Miocic to win the UFC heavyweight title in the main event of Saturday's (July 7, 2018) UFC 226 pay-per-view event at the T-Mobile Arena in Las Vegas, Nevada.
This led to Lesnar accepting the invitation and shoving Cormier in the process. He then called out the heavyweight division and told DC that he was coming for him, which was designed to start to the build for this upcoming fight.
Lesnar has competed just once inside of the cage since 2011. The former UFC champion holds notable wins over fighters such as Shane Carwin Randy Couture and Frank Mir.
Hard-hitting heavyweight star Mark Hunt is the last man to have fought Lesnar in the Octagon at UFC 200 in 2016. This marked Lesnar's return to MMA after an almost five-year retirement.
As seen in the fight, Lesnar won a unanimous decision that night which was subsequently overturned when it was revealed he failed two USADA issued drug tests before the bout. This led to Hunt filing a civil suit against Lesnar and the UFC to settle his grievances.
Coming into this fight, there was speculation that Lesnar might show up to UFC 226 to call out the winner of this main event fight and that is exactly what happened.
Now, the big question is when Lesnar will get into the USADA drug-testing pool and the agency as given some insight into the situation.
A spokesperson for the agency confirmed to MMA Fighting that the former UFC heavyweight champion has started the process to get back in the USADA drug-testing pool.
With Lesnar back in the pool, he will still have to serve a little more than six months left of his previous suspension. Thus, he is not able to fight inside of the Octagon until January.
It should be noted that the spokesperson was not able to go into detail as to what Lesnar has done so far regarding beginning the process.