Floyd Mayweather Will Fight In RIZIN FF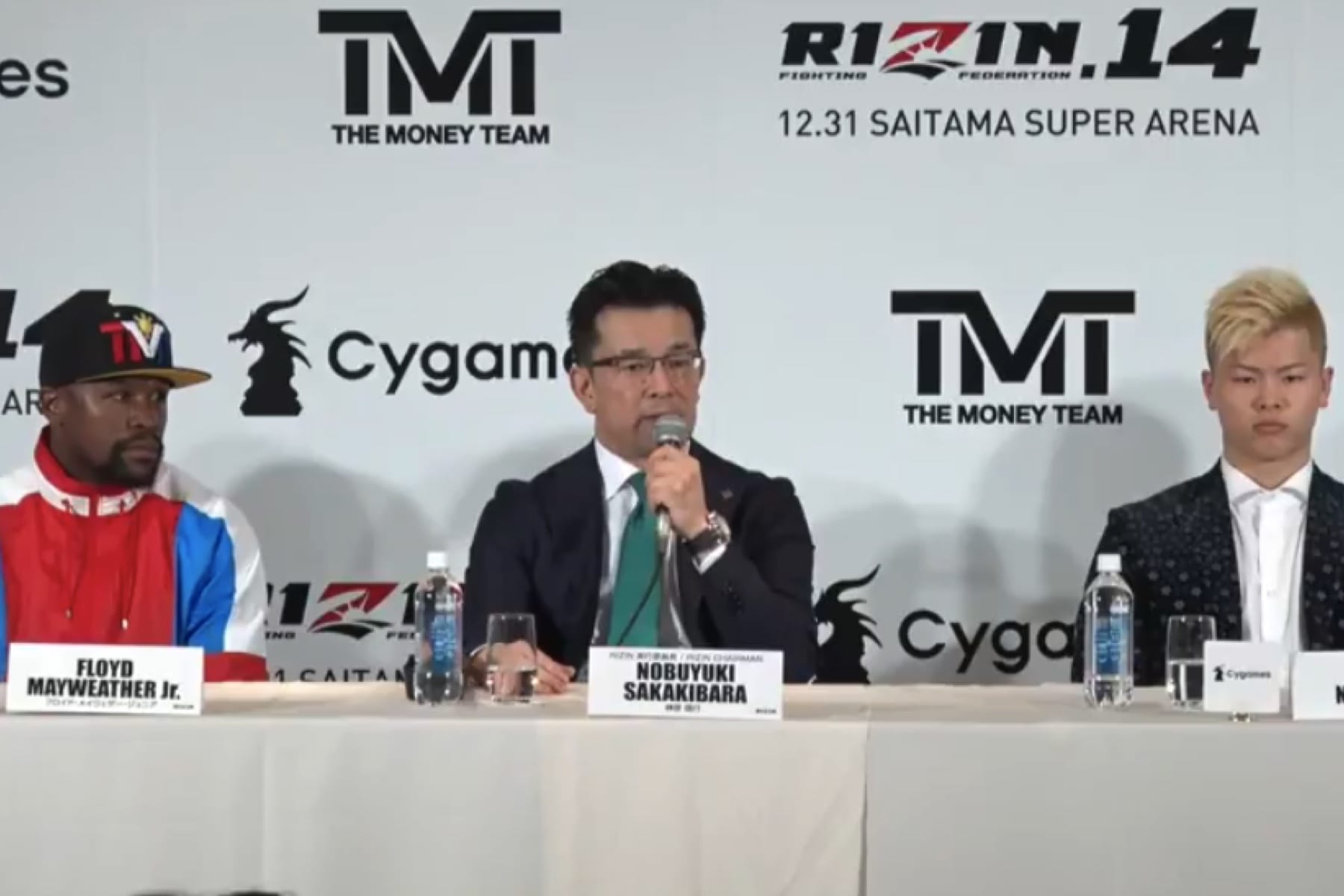 In a surprising bit of news, Floyd Mayweather will fight in Japanese MMA/kickboxing promotion RIZIN FF.
Word came tonight during a press conference (via Ariel Helwani) that Mayweather will face undefeated Japanese kickboxing sensation Tenshin Nasukawa at RIZIN FF 14 on December 31. The news was revealed in a press conference:
They also put out a press release announcing the fight:
TENSHIN NASUKAWA TO FACE FLOYD MAYWEATHER AT RIZIN 14

Tenshin Nasukawa (27-0, KB) has become one of the most popular fighters in Japan, and perhaps the best combat sports prospect the country has ever seen. Between both MMA and kickboxing fights, Tenshin has fought over thirty times despite turning 20 just over two months ago. The current RISE Featherweight Champion, Tenshin began to make a name for himself with wins over the likes of Amnat Ruenroeng and Wanchalong PK Saenchai in the KNOCK OUT promotion out of Thailand.

Since those wins, Nasukawa has become a massive star under the RIZIN banner. Racking up four dominant mixed martial arts wins, defeating multiple men to be crowned the 2017 RIZIN KICK Tournament Champion, and most recently outpointing fellow superstar Kyoji Horiguchi in the biggest fight the Saitama Super Arena has ever seen. Tenshinhas a rematch with Taiki Naito at RISE 129 later this month.

Floyd Mayweather Jr. (50-0, BX) has a legitimate case as the best boxer of all time, and he has the record to back it up. After winning a Bronze medal at the 1996 Olympic Games in Atlanta, Mayweather turned pro and never looked back. Over the years he has solidified himself as the biggest fight in combat sports, earning the nickname "Money" in every sense of the word.

The legendary counter puncher has too many accolades to name. Mayweather holds numerous boxing titles under WBO, WBA,and WBC, to name a few. The five-division champion has defeated the likes of Ricky Hatton, Shane Mosley, Miguel Cotto, Marcos Maidana, and Andre Berto. He has also racked up wins in some of the most financially successful pay-per-view events of all time against Oscar De La Hoya, Canelo Alvarez, Manny Pacquiao, and most recently, UFC superstar Conor McGregor.

Despite being 41-years-old, "Money" has never slowed down. And he is slated to bring his talents to Japan for the first time ever to take on the incredible phenom known as "Teppen" Tenshin. Stay tuned for future news regarding the rules the bout will be contested under, as well as other match-ups for the card.

RIZIN 14 is scheduled for December 31, 2018, live from the famed Saitama Super Arena in Saitama, Japan.
Nasukawa is a 20-year-old, undefeated 27-0 kickboxer who most recently beat former UFC title contender Kyoji Horiguchi under kickboxing rules at RIZIN FF 13 on September 30.
Ariel Helwani said tonight that the rules and weight still had to be worked out. 'Money' has teased an MMA fight for some time, but this fight is wholly expected not be one:
Regarding the rules and weight, Rizin chairman Nobuyuki Sakakibara said "we still have some more work ahead of us." Everyone I've talked to said they'd be shocked if it's MMA.

— Ariel Helwani (@arielhelwani) November 5, 2018
This one came out of the blue. Mayweather apparently isn't too worried about the weight class. This is a different fight for him:
Mayweather calls this fight a "special bout" and that he's not really worried about weight class.

— Ariel Helwani (@arielhelwani) November 5, 2018
RIZIN is clearly trying to make big moves, as you don't book 'Money' for a fight without spending a massive amount of just that. Kudos to them and the fight will certainly carry intrigue.
The details are still being negotiated, however, and you can bet that the terms will be Mayweather's favor. He has made an undefeated career out of having fights play out according to his demands. Maybe he'll face Nasukawa in a straight boxing match; that would seem to be the most likely outcome.
He's teased boxing UFC lightweight champion Khabib Nurmagomedov recently, but one of Japan's most touted combat sports stars is up next for Mayweather instead. Are you excited to see it?