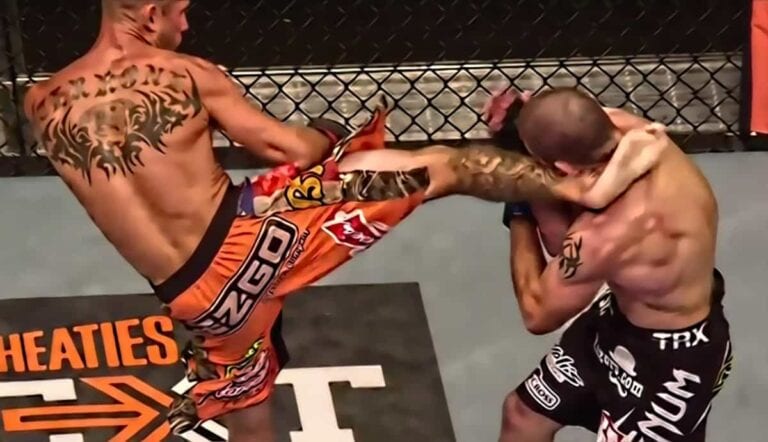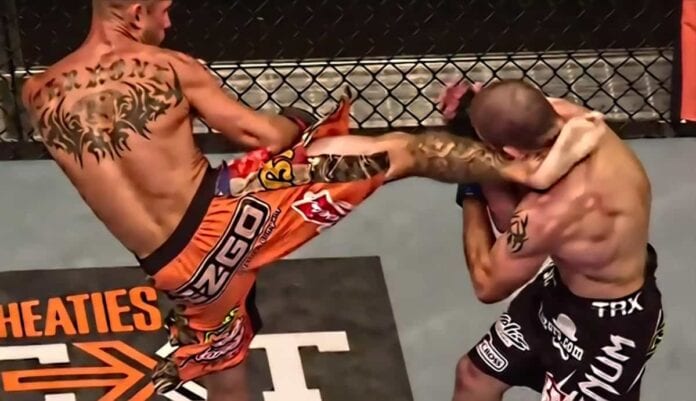 The Art of Eight Limbs, Muay Thai is one of the most effective striking bases in MMA. Join us as we break down the transition of one of the world's most popular martial arts in to MMA……
One of the fastest growing sports in the world today, mixed martial arts, owes it's success to the origins of fighting. If it weren't for the rampant obsession with various styles of unarmed combat throughout history, there would be no base for such a promotion to exist, let alone flourish.
One such base style is Muay Thai, the art can be traced back to the 16th century, originally known as Siamese style boxing and made famous by Nai Khanomtom in 1767. The Siam fighter was captured by the Burmese during battle, and was given the opportunity by his captors to fight for freedom. He used what would later be called Muay Thai to win the fight and gain his release, and became a national hero. It was this single event that helped catapult the art to becoming a national sport soon after.
Fast forward to present day MMA, and Muay Thai is more alive than ever. Coaches and fighters recognize the advantages gained in the striking department when Thai boxing is introduced, and it shows in some of the top strikers' gameplans and resulting finishes. So let's take a look at the 'Art of Eight Limbs' and the most effective tools, before we check out some video footage on the top Muay Thai strikers in MMA today.
The striking parts of the body in Muay Thai are the fists, elbows, knees and shins. Clinching is also allowed. With these tools, the techniques are broken down in to six categories, as follows; Punching (Chok), elbow (Sok), kicking (te), knees (Ti Khao), foot thrust (Theep) and clinch/neck wrestling (Chap Kho). Within these categories there are many different methods of delivering the techniques, and many transition perfectly in to MMA.
Although the fundamentals of stance and striking style are very different to that of a solely MMA trained fighter, the most effective movements of Muay Thai can be tailored in to a combatant's arsenal to devastating effect. Check out our breakdowns of some of the top Muay Thai specialists in MMA history….
Wanderlei Silva
Although more wild and brawling than cerebral assassin, 'The Axe Murderer' had some of the deadliest Muay Thai knees in MMA history. He pretty much put the technique on the map during the early UFC and Pride FC days, most famously smashing Quinton 'Rampage' Jackson's nose with the attack.
Notice Silva's two handed clinch behind the neck, although he doesn't utilize as much torso control with the forearm/elbow as others do, his body shape and excellent technique do the trick. He drags the opponent's head down, keeping his hips out and back, before pushing through and slightly up with the knee and finishing by engaging the hips.
Maximum power through the knees and hips, textbook Muay Thai.
Jose Aldo
UFC featherweight champ Jose Aldo has a very interesting style of Muay Thai, influenced both by his martial arts training and background in the sport of soccer. Aldo's explosive combos display the roots of Muay Thai, for instance his 3-2-low kick combo, which he uses to often blast opponents off their feet. His hip movement and alignment is key to much of his success in the striking department.
'Scarface' opts to take the power striking of Muay Thai and blend that in to his game, with less attention paid to techniques like elbows, and more to heavy punches, kicks and flying knees.
Edson Barboza
Black prajied in Muay Thai, and multiple title winning Brazilian Edson Barboza is the prime example of how the art can be executed to perfection in MMA. The UFC lightweight has some of the most amazing highlight reels finishes in the promotion's history.
Junior doesn't open his body to takedowns as a traditional Muay Thai stance would, instead using explosive movements in measured bursts to be able to deliver the most powerful strikes possible. With MMA foot movement blended in to his Muay Thai striking base, Barboza is a formidable foe. We don't see as much clinch work from Edson, also leaving him more space to fire off massive kicks to the thighs, head and body.
A lot more precise than Wanderlei Silva's style, but equally as scary.
Anderson Silva
Former UFC middleweight champion Anderson Silva smashed on to the scene back in 2006, showing the Muay Thai clinch could be used in clinical fashion to dismantle opponents in the UFC octagon. Rich Franklin and Chris Leben were just the start of what would be a glorious stint as the 185-pound boss.
The Brazilian is a black prajied in the art of Thai boxing, but notice how his style is more counter striking and precision based than all out aggression. His tight clinch of 'Ace' during their two title fights influenced how fighters would train for that technique, and his magnificent Theep to the jaw of Vitor Belfort was hailed as the greatest knockout in MMA history. Silva is a master of using upper body control to maintain his target focus when throwing strikes, and has easily become the most established striker in the promotion's ranks.
Silva's upwards elbow against Tony Fryklund in Cage Rage is a prime example of how absurdly talented a striker 'The Spider' really is.
Jon Jones
As illustrated by the video above, Jon Jones' very unique style has some obvious influence from Thai boxing. His knees and more particularly elbow strikes are textbook Muay Thai, and he uses his physical advantages to get as much torque and power output as possible.
The spinning elbow is a very powerful move when performed correctly, and Jones has the technique down to a tee. Although he may not be the heaviest striker in the game, 'Bones' uses accuracy and anticipation to both stifle his opponents attacks, and also implement offense of his own in the form of oblique kicks, steeping, spinning and slashing elbows, and a variety of kicks.
Donald Cerrone
Finally we look at the striking of UFC lightweight Donald Cerrone, also a multiple title national and world Muay Thai champ, who has some of the most surgical striking in the game today. "Cowboy' has some very dangerous kicks in MMA, and has dispatched Jim Miller, John Makdessi, Adriano Martins and Melvin Guillard with his accurate head kick.
You'll not Cerrone's striking stance is still heavily Muay Thai influenced, something you don't often see given the advantage it can give wrestlers. Of course Cerrone's submission game means he doesn't really mind going to the mat, but the more square stance allows the Greg Jackson's title challenger to throw strikes quicker and often out of the opponents range of vision.
The fake 1-2 followed with the high or switch kick is Muay Thai bread and butter, and Cerrone throws that technique like it's going out of fashion.
Thanks for reading!