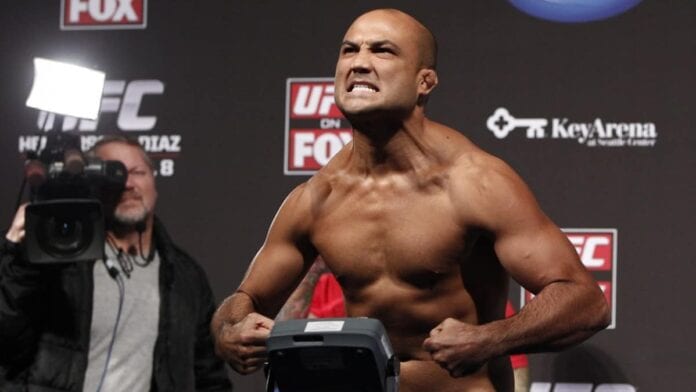 Earlier this week, UFC President Dana White made headlines after labeling former UFC lightweight and former UFC welterweight champion BJ Penn as an 'underachieving' fighter, saying that "The Prodigy" could've been the best of all-time had he perhaps focused more. The 37-year-old former champion has since gotten wind of those comments, and it appears as if he had mixed feelings regarding the situation.
Speaking with KOHN2, Penn described White's claims as 'flattering' but 'sad', adding that he hopes to one day show the UFC boss that he had reached his full potential:
"It's flattering and it makes you sad at the same time. It's strange for me to talk, because it's like one side we're talking about this Hall-of-Fame career guy, and on the other side, I'm just trying to prove myself. You got to talk about two different people, two different BJs at times. It's his opinion and he's entitled to that, and all I can do for my side is get in there and show them. Maybe Dana White will look back and be like, 'You know what? Look at him now. That guy really did reach his full potential."
Penn should get the opportunity to win over White, as he's made it clear that he'd like to make a return to action. In fact, he was scheduled to compete last June at UFC 199, but he was pulled from the bout after violating USADA's (United States Anti-Doping Agency) guidelines pertaining to IV rehydration. "The Prodigy" is currently looking to return in November at 145-pounds:
"The fight now should be around November," Penn said. "That's when we're looking to come back, so we're going to talk to the UFC and 100-percent, we want to get back out there, 145 (pounds), and we're gonna do this. See where this takes us."
Penn has lost his last three bouts to date and was most recently seen on the wrong side of a brutal beating from Frankie Edgar in 2014, but the Hawaiian has since moved to New Mexico to train under the tutelage of legendary head coach Greg Jackson. Does Penn have one more run left in him?