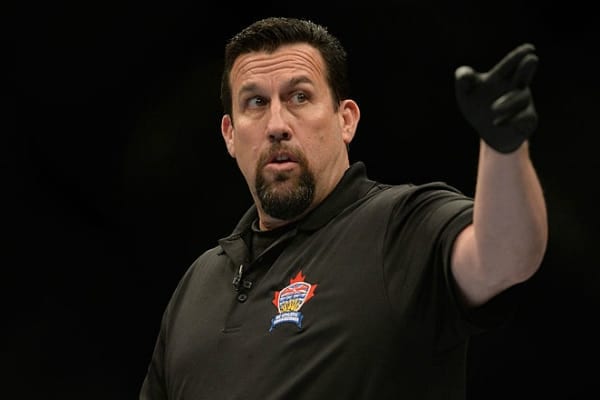 Last weekend's (Sat., April 21, 2018) UFC Fight Night 128 from the Boardwalk Hall in Atlantic City, New Jersey, saw a controversial stoppage unfold when bantamweight Ricky Simon came back from an early round beating against Merab Dvalishvili.
In the fight's third round, Simon snatched a mounted guillotine choke on a tired Dvalishvili, and the dangerous submission was tight.
Watch the brutal choke right here, which went down to the final seconds of the fight:
Somehow he didn't tap ? pic.twitter.com/tBk6I2db3u

— FOX Sports: UFC (@UFCONFOX) April 22, 2018
At first, it appeared Dvalishvili would survive to the bell and, after out-striking Simon by a wide margin in the opening rounds, most likely win on the judges' scorecards. Dvalishvili didn't tap despite being in serious danger, and the fight seemingly came to a close.
However, a cageside discussion amongst officials declared that the fight would be called a TKO victory for Simon after Dvalishvili was deemed to be unconscious at the end of the third round. The video showed that Dvalishvili was indeed in big trouble and exhausted towards the end of the three-round fight, and a heated argument about whether or not it was the correct call predictably erupted online. According to many of the prominent MMA referees questioned, it seems the consensus is that referee Liam Kerrigan and the New Jersey State Athletic Control Board made the right call last weekend.
The biggest name in refereeing for the sport – legendary UFC referee and current Bellator commentator "Big" John McCarthy – discussed the strange scenario with fans on Twitter last night, saying that the right outcome was made, but the wrong result was recording with a TKO:
Right outcome with Simon winning, wrong call as far as TKO #AskBJM https://t.co/IuxZ4n1wHd

— Big John McCarthy (@JohnMcCarthyMMA) April 22, 2018
McCarthy even responded to Ariel Helwani's clarification of the situation, forcefully declaring it should have been a technical submission result:
How do you have a TKO on a Submission win??? Come on @arielhelwani you know that can't be right. https://t.co/2biQh5mkzi

— Big John McCarthy (@JohnMcCarthyMMA) April 22, 2018
"Big" John also cleared up any doubt in his mind that Dvalishvili was out, detailing the exact moment when he went out not once but twice in the fight:
Frank trust me he went out twice. First time when he slammed his head into the mat on the takedown at 56 sec left and then on the neck crank at the bell https://t.co/wOHlPXjAEx

— Big John McCarthy (@JohnMcCarthyMMA) April 22, 2018
Earlier in the night, McCarthy had a somewhat angry, somewhat humorous response to a fan who asked him if being saved by the bell was a real thing in MMA as it was in boxing:
Saved by the bell was a shitty sitcom and a term that is associated with old boxing. It does not apply to this and MMA with submissions. Man was out at the bell and several times before. Why is it you want someone to win a fight they were submitted in? #AskBJM https://t.co/Q4cH4Aoi4z

— Big John McCarthy (@JohnMcCarthyMMA) April 22, 2018
If you enjoyed this story, please share it on social media!