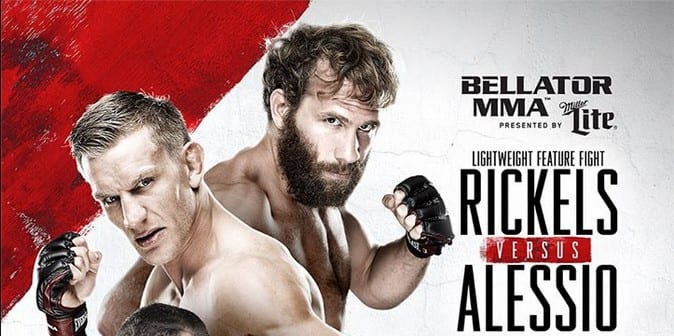 It's was once again fight day here at LowKickMMA, and the talent on display tonight (Friday June 26, 2015) will come from the Kansas Star Casino in Mulvane, Kansas, in the form of Bellator 139. Headlining the card are a heavyweight bout between UFC veteran Cheick Kongo and former Bellator Heavyweight Champion Alexander Volkov., but there's a whole bunch of great fights also taking place on the preliminary section of the card.
Our main event was next with Cheick Kongo (22-10-2) vs. Alexander Volkov (24-5) in a light heavyweight bout. This was one of the most obvious one-sided fights that you will ever see in MMA. Kongo took him down with ease and ground and pounded him to a unanimous decision victory.
Our co-main event was next with Dave Rickels (16-3) vs. John Alessio (35-17) in a lightweight bout. Rickels completely dominated this fight and was blitzing him with strikes, but accidentally threw a knee to the downed Alessio that resulted in the fight being stopped. The referee ruled the fight a non-contest.
Up next was Joe Schilling (2-4) vs. Hisaki Kato (4-1) in a middleweight bout is next. Kato got an early takedown in the first round and dominated Schilling for the remainder of the round. Once the second round started, Kato landed a devastating superman punch that sent Schilling off his feet, bouncing to the ground and this one is over.
Opening the main card on Spike TV is a feather contest that will see Pat Curran (20-7) vs. Emmanuel Sanchez (10-1). The first-round was a bit slow, but really picked up in the second. The story of the fight was Curran landing takedowns and dominating Sanchez with strikes while on top. Curran would go on to beat Sanchez by unanimous decision.
So join us right here at LowKickMMA for Bellator 139, kicking off at 5:45 PM ET!
Main Card (9 p.m. ET)
Bellator Heavyweight Main Event: Cheick Kongo def. Alexander Volkov via unanimous decision (30-27, 30-27, 30-27)
Bellator Lightweight Feature Fight: John Alessio vs. David Rickels – no contest (unintentional illegal knee) – Round 1, 2:21
Bellator Featherweight Feature Fight: Pat Curran def. Emmanuel Sanchez via unanimous decision (30-27, 30-27, 30-27)
Bellator Middleweight Feature Fight: Hisaki Kato def. Joe Schilling via knockout (punch) at :34 of round 2
Preliminary Card
Bellator Featherweight Prelim Fight: Bubba Jenkins def. Joe Wilk via TKO (punches) – Round 2, 1:00
Bellator Bantamweight Prelim Fight: Jeimeson Saudino (8-4) vs. Aaron Ely (4-2)
Bellator Lightweight Prelim Fight: Bobby Cooper def. Pablo Villaseca via split decision (29-28, 28-29, 29-28)
Bellator Heavyweight Prelim Fight: Augusto Sakai def. Daniel Gallemore via TKO (injury) – Round 2, 5:00
Bellator Female Featherweight Prelim Fight: Iony Razafiarison(2-0) vs. Bryanna Fissori (1-0)
Bellator Heavyweight Prelim Fight: Alex Huddleston def. Javy Ayala via submission (rear-naked choke) – Round 1, 1:12
Bellator Featherweight Prelim Fight: Gaston Reyno def. Greg Scott via submission (guillotine choke) – Round 1, 1:17
Bellator Heavyweight Prelim Fight: Derek Bohi (5-4) vs. Frederick Brown (2-1)
Bellator Lightweight Prelim Fight: Marcio Navarro (13-11) vs. Cody Carrillo (8-11)