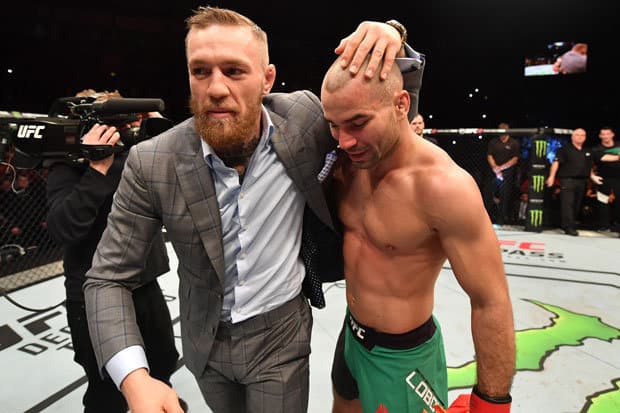 Artem Lobov has a fight at this weekend's UFC Moncton, but it's not the one he was looking for.
Perhaps best known as Conor McGregor's longtime friend and teammate, Lobov will meet former lightweight contender Michael Johnson in Canada. However, he had his eyes set on formerly scheduled opponent Zubaira Tukhugov, and for good reason.
Tukhugov rose to infamy by jumping into the cage to assault McGregor during the UFC 229 post-fight brawl. He then exacerbated the situation by bragging about it on social media. The already bitter feud was sent into a never-before-seen territory. And it's far from over. Tukhugov was pulled from his fight with Lobov as Dana White claimed he would never fight in the Octagon again.
The Feud Rolls On
That lead to his teammate Khabib Nurmagomedov threatening to leave the UFC. That situation has since been diffused.
But from Lobov's point of view, it has not. Speaking up in a recent interview with ESPN's Ariel Helwani, Lobov claimed he would leave the UFC if Tukhugov was released. For him, they must fight in the Octagon:
"If they cut him, I want to be gone as well," Lobov said. "I will fight him in ACB, Bellator or any league he wants to do it. But I will get him.

"It has to be done inside the Octagon. I want to look this man in the eyes, one-on-one. Once you're inside that Octagon, it's one-on-one. Your skill versus his skill. Your heart versus his heart. I want to test his heart in the Octagon. I want to see what he's got."
He then dove into detail about his views of Tukhugov's assault on McGregor. "The Russian Hammer," like many, thought the fact he hit a man who had just been submitted after four rounds of fighting was a cowardly move. To then brag about it online was simply not honorable:
"The one thing that I did not like is the fact that after all of this happened, Zubaira sat down in front of his phone and recorded the video bragging about punching a guy who had just gone four rounds and just fought, hitting him from the side when he wasn't looking.

"Do you think that's an honorable thing to do? To sit down about bragging about hitting someone from behind? That's not an honorable thing to do. They must get it for that."
Ready To Leave
Lobov's record in the UFC isn't exactly shining. He has a 2-4 mark in the world's MMA leader since officially debuting in December 2015. But he's been able to maintain a prominent persona thanks to his lasting connection to the sport's most popular fighter.
Because of that, many promotions made offers to him. It wasn't about the money, however. It was about getting revenge on Tukhugov. That's what made it sting so badly when the fight fell apart – that he could have had so much more. Regardless, he still has his sights set on his Russian archnemesis:
"I was ready to leave the UFC," Lobov said. "But when I sat down, I said, 'I have to fight Zubaira. That's the only fight that makes sense to me. I don't want to fight anyone else. It doesn't matter how much they pay me.'

"As a result I ended up staying with the UFC and taking the fight with Zubaira. Then he got pulled from the fight. I thought, 'oh my god, I stayed with the UFC and took a pay cut compared to other offers just to fight him and now I don't get to fight him?' I have to get him back."
Staying Focused
Lobov will face longtime lightweight contender Michael Johnson at UFC Moncton this Saturday. He may have his sights on Tukhugov, a featherweight who has not fought since 2016 due to a USADA suspension and the current drama.
"The Russian Hammer" may be best served to watch out for "The Menace" in Canada this weekend. Will he emerge with a much-needed win?