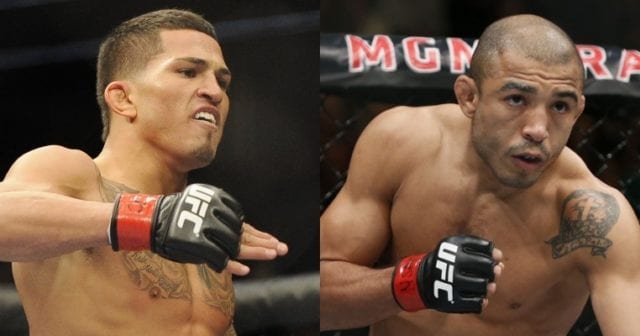 Many fighters have criticized featherweight champion Conor McGregor for taking fights outside of his division instead of defending his title, but former lightweight champion turned featherweight contender Anthony "Showtime" Pettis isn't bothered by it. In fact, "Showtime" attempted to do the same when he was sporting 155-pound gold:
"I was trying to do that when I was champ. I called out Jose Aldo right after I won the belt at lightweight, it was supposed to happen, it didn't happen for reasons," Pettis said on a recent appearance on "UFC Tonight".
"I think right now, Conor he's doing his thing. He's a guy that's winning fights, he's knocking guys out, he's fighting guys like Nate Diaz but he's winning fights, what can you say."
Aldo, on the other hand, isn't too pleased with the way McGregor is conducting his business. After being knocked out by the Irishman in just 13 seconds last December, "Scarface" bounced back with a dominant victory over Frankie Edgar last July to become the interim 145-pound champion. With the win, Aldo thought that he had been guaranteed the next shot at McGregor, but the "Notorious" one recently signed on to fight lightweight champion Eddie Alvarez at November 12's UFC 205.
In the wake of the news, Aldo requested his release from the UFC, and said that he was considering retirement. With McGregor having his hands full, Pettis said that he's 'ready to go' for a 'big' fight with Aldo, a fight that was scheduled to take place years ago, but ultimately fell through:
"If Jose Aldo wants it, I'm ready to go. I think he's more frustrated than actually trying to retire. I don't think he's going to retire where he's at right now. He obviously wants that (Conor) fight back, Conor's busy, I'm there," said Pettis.
"I think that's the fight that makes sense for him. I know he wants to sell pay-per-views and I think my name with his name makes a big fight."
Pettis recently made his 145-pound debut with an impressive win over Charles Oliveira, landing him at No. 6 in the division. "Showtime" undoubtedly deserves a big fight, and a scrap with Aldo would be highly exciting, although it'd be difficult to leapfrog No. 3-ranked Max Holloway, a man on a nine fight win streak.
If Aldo sticks around, who should he face next?
If you enjoyed this story, please share it on social media!