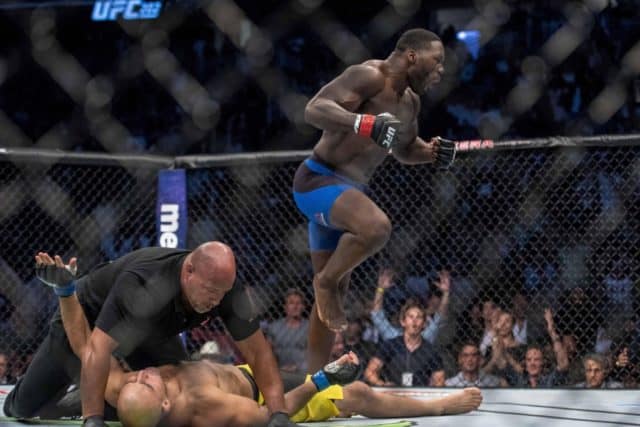 No. 1-ranked UFC light heavyweight contender Anthony "Rumble" Johnson established himself as a legitimate title threat in the co-main event of last night's (August 20, 2016) UFC 202 from Las Vegas, Nevada, bulldozing through No. 2-ranked Glover Teixeira in just 13 seconds. Although he admitted that he didn't see it coming that fast, Johnson said in the aftermath of the bout that he had envisioned putting Teixeira away:
"Not 13 seconds, but I knew that I would knock him out eventually," Johnson told MMAjunkie following the fight. "I had pictured it for a while now, and I told my coach this morning – I said, 'If I'm going to knock Glover out, it's going to be by uppercut,' and it worked out.'
"I don't really study fights too much. I might watch one or two rounds, and I can tell what a person likes to do. I just knew if I hit him with an uppercut, it would be lights out."
With his latest win, "Rumble" should be in line for the next shot at 205-pound titleholder Daniel Cormier. Johnson and Cormier actually met once before in April 2015 for the vacant title in a bout that saw "Rumble" drop "DC" early on before Cormier locked in a fight ending rear-naked-choke. Now, however, Johnson feels as if he would get the better of Cormier:
"I'm just looking forward to it again; this is something that I've wanted for a long time," Johnson said. "I only want to compete against the best, and so far since I've been back in the UFC, that's what I've been doing. This is my second chance at a title, so I really want to go out and I want to dominate. Daniel, be said that when we're in the cage it's Daniel time, which is fine. It can be Daniel time. But at the end of the night, it's going to be my time.
"Daniel took a hell of a shot, and he took it like a man. I was very surprised that he got back up because usually I hit you one time and you drop and you don't get back up unless someone is helping you up, and Daniel got right back up and got moving. Hopefully I don't get as frustrated next time and keep landing big shots on him and eventually put him out."
One man that could potentially secure a title shot over Johnson would be former longtime divisional kingpin Jon "Bones" Jones, who was scheduled to face off with Cormier in the main event of July 9's UFC 200. That fight fell through, however, after Jones was notified of a potential anti-doping violation. "Bones'" fighting future is currently unclear, but he did recently say that he expects 'good news'.
Johnson doesn't seem phased by Jones, however, as he said that the former champion can 'wait':
"Not at all – Daniel is beyond that, I'm beyond it," Johnson said. "Daniel wants to fight me, and I want to fight him. As far as Jon, he can sit back and wait. That's just what it is right now. That's nothing against him, but that's just what's going to happen.
"Daniel said he wants to fight me. He said he's not worried about Jon. We're just not focused on it. For what? Until he's back, what's the point of even having a conversation about it?"
What do you make of the light heavyweight title picture?
If you enjoyed this story, please share it on social media!