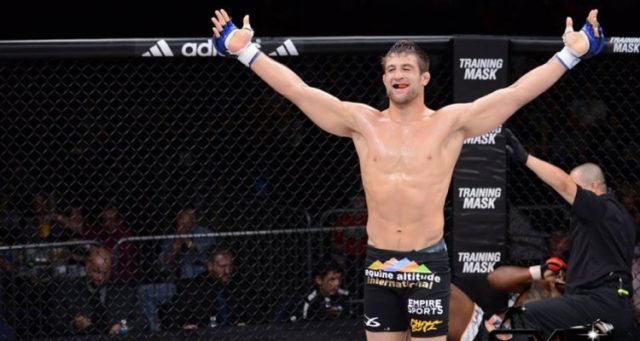 In the light heavyweight finale of The Ultimate Fighter (TUF) 23, Team Gadelha's Andrew Sanchez took on Team Joanna's Khalil Rountree. In a battle between two quality strikers, it was Sanchez who ultimately prevailed.
The orthodox Sanchez opened up with a high kick, but Rountree blocks it. Sanchez dives on a double leg, but Rountree stuffs it. The southpaw Rountree jabs and then misses with an overhand left. The two paw with their lead hands before Sanchez throws a head kick which is once again blocked.
Sanchez then drops for a double leg takedown, which he is able to complete. But Rountree is able to scoot himself back to the fence. Sanchez stays sticky but is unable to do much with it. Rountree gets back to his feet, but Sanchez is able to get in on his opponent's hips and pick him up for another takedown.
Sanchez looks to take the back, staying sticky and hitting right hands to Rountree's face as he tries to get back to his feet. Sanchez uses his left hand to pull Rountree's left behind his back, allowing Sanchez to to punch mostly unimpeded.
Rountree is able to get back to his feet and he uncorks a head kick. Sanchez transitions to a takedown, and ends the first round on top.
The second round opens with the two light heavyweights exchanging kicks and missing on punches. Rountree then connects with two left hooks, but Sanchez drops for a single leg, pushing Rountree against the fence. Rountree does a good job defending, eventually getting back to over/under position.
But Sanchez is able to drag Rountree to the mat regardless, setting up in half guard. Sanchez is able to pepper Rountree with right hands as he holds his opponent down, draining the stamina of his opponent.
Sanchez then looks to transition to the back of Rountree, continuing to soften up his foe with right hands. Rountree is able to get his back to the fence, but Sanchez stays sticks on top, keeping hands in Rountree's face. The round ends with Sanchez pulling Rountree off the fence and continuing to put hands in Rountree's face.
As the third round begins, Rountree enjoys success with body kicks and jabs, but Sanchez is soon able to drop for a single leg and push Rountree into the fence. After transitioning to double underhooks, Sanchez is able to drag Rountree to the mat. From half guard Sanchez continues to pepper Rountree.
Sanchez is then able to latch himself onto the back of his opponent. Rountree defends the choke, but Sanchez bashes away with right hands from his foe's back, maintaining control all the while.
The round comes to an end in the same position, with Sanchez continuing to pepper Rountree until the fight comes to an end.
Andrew Sanchez def. Khalil Rountree via Unanimous Decision (30-25, 30-25, 30-26).
If you enjoyed this story, please share it on social media!